True-to-Life eLearning Simulations
The Co-operative Bank called on us to create personal banker elearning simulations that mirror the live working environment. What we delivered was systems training so realistic that some of their staff thought they were using the real thing!
Modernising legacy training systems
Co-op wanted to create elearning that helps their branch teams to become skilled and confident across multiple systems.
Some of their legacy desktop systems still operated on 80s-style black and green screens, including the system used for opening current, credit card and loan accounts. These retro systems aren't exactly the most intuitive to use compared to today's tech, but they are essential tools for setting up new products for Co-op banking customers, so it's vital that staff can navigate them with confidence and ease.
Unable to let trainees loose on the real thing, the Co-op needed a bespoke training solution with that would give branch and contact centre staff an experience to closely mirror how the account opening process worked in the real world.
They approached us to create an engaging elearning module that would feel 'true-to-life' and better prepare staff for their role. But they also wanted it to be compelling for their staff and keep them eager to learn, rather than sending them to sleep at their keyboards. That's our kind of challenge!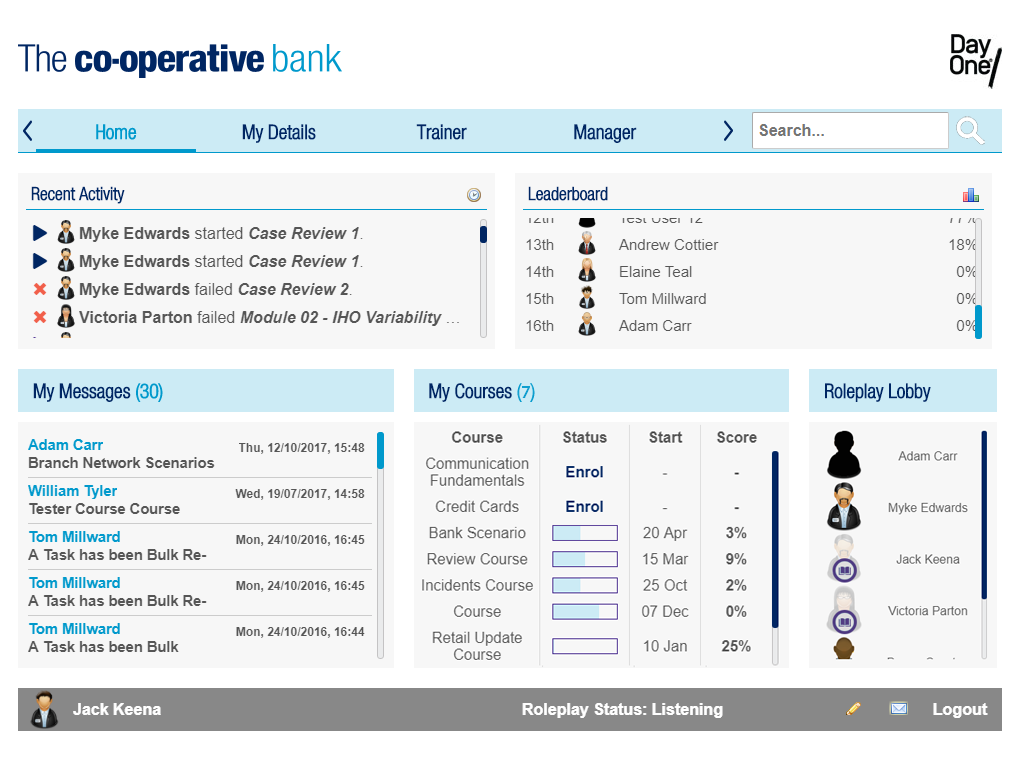 We set to work to create a training module to beat all training modules. It was designed to closely match the look, feel and functionality of the bank's account opening programme – hot keys and all, no mouse allowed.
The result allowed trainees to learn the account opening process as if they were using the real thing. It integrated with our very own Dynamic Data system to provide randomly generated 'customer' details to work with. It doesn't get more 'true-to-life' than that.
We know that systems training isn't usually the most gripping topic, so the module was designed in an engaging format within a real-world context. Instead of learning the process in isolation, trainees use the system as a tool to help them learn how to help Mrs Jones get a loan, or how to set up a new bank account for little Jimmy.
We had fantastic feedback from the Co-op training team. The realistic introduction to the systems has helped their staff to feel more confident in their understanding of the process when back on the job, so they can apply that knowledge to real customer interactions.
The new training module has also helped to significantly reduce errors and the need for additional training. And above all else, not one trainee fell asleep! Now that's a job well done.
"Our Personal Banker system is rather old and peculiar, so I was amazed that Day One was able to replicate its behaviour exactly. It is so true to life, that people think they are on the real system. It's a much more effective training solution than the 'clickable hotspots' other suppliers had approached us with."
REBECCA HEGARTY
Training Consultant / The Co-operative Bank

Help with system simulations or elearning for finance? Can Do
Whatever your training requirements, the Day One can deliver on them with a bespoke solution.
Want to learn more? Contact us for an informal discussion about your needs.