Bespoke medical and healthcare elearning solutions for public and private sector organisations across the UK and worldwide.
Our elearning for healthcare professionals supports training in NHS hospitals, pharmaceutical companies, medtech, and more.
Training solutions for health service providers
Online training is ideal for onboarding and continuing professional development (CPD) in healthcare because it allows new content to be rolled out quickly and at low cost within this high-consequence, fast-changing environment.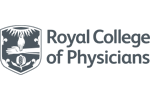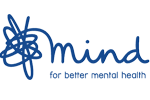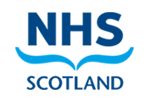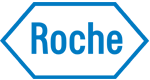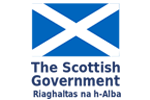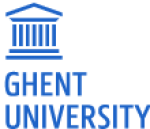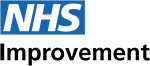 For over 20 years, Day One Technologies has been providing elearning services and solutions to some of the best-known companies and organisations in the UK and Europe. We've built long-term working relationships with many clients, becoming their trusted partner for all things learning. This is based on a Can Do approach, the ability to engage learners, and focus on delivering projects on-spec, on-time, and on-budget.
Healthcare elearning can work well for learners working in a range of health environments, including NHS or private hospitals, pharmaceutical companies, GP surgeries, dental practices and nursing / care homes.
All our content and LMS solutions are designed to be mobile friendly, working equally well on tablet, smartphone or desktop device.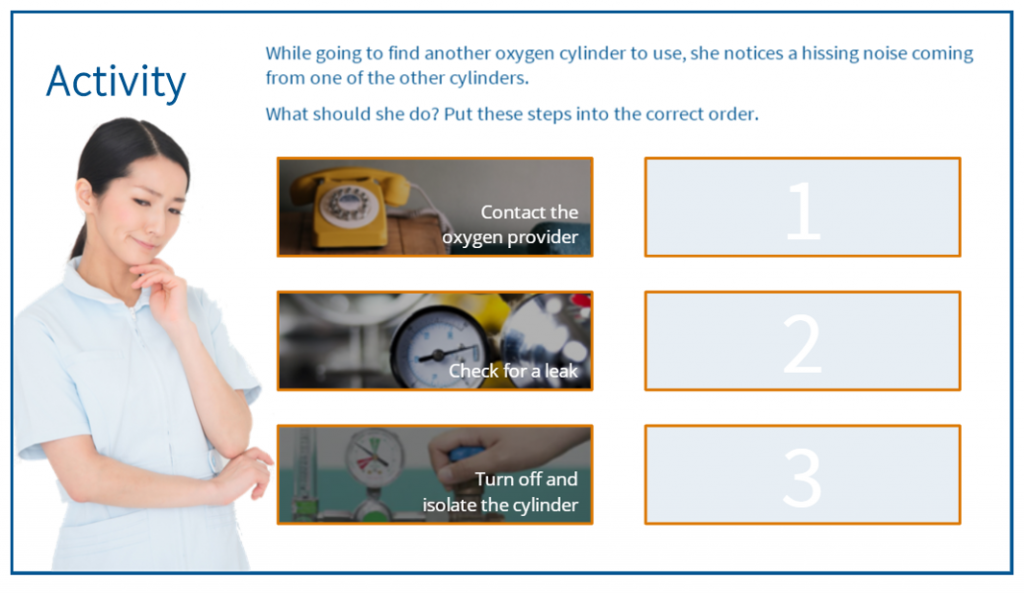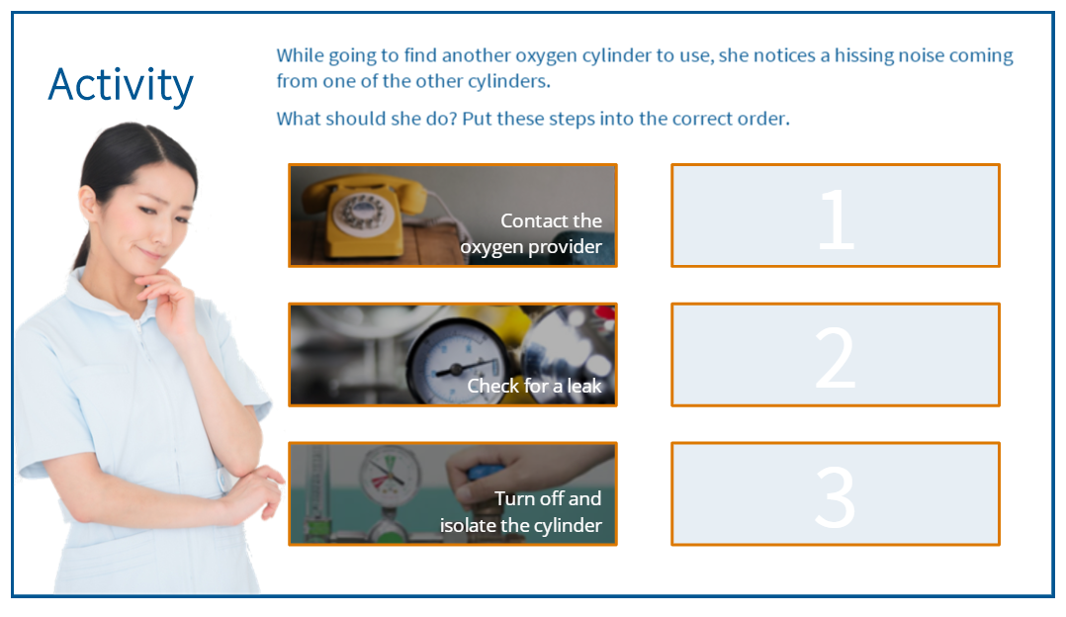 Anytime, anywhere learning
24/7 access to learning materials is convenient and important for a healthcare workforce that often works in variable shifts.
eLearning reduces the disruption and time away from work, as well as the cost, when compared to training nurses, doctors and support staff in a traditional, face-to-face environment.
Our elearning for healthcare staff can also deliver powerful learner analytics for L&D / HR managers, enabling you to track access to content, progress through materials, and successful completion, which is often essential for regulatory compliance.
eLearning for healthcare professionals - case studies
We have experience across NHS hospital, mental health, medical technology, private healthcare and pharmaceutical elearning projects. Below are just a few examples of our work creating dynamic, bespoke elearning for healthcare professionals and solution providers:
NHS eLearning to Help Improve Patient Flow
The Scottish Government (working on behalf of NHS Scotland) commissioned eLearning from Day One to form a vital part of their Health and Social Care certification programme – 'Whole System Patient Flow Improvement'.
This NHS eLearning was designed as part of the certification course to improve acute hospital patient services across Scotland by eliminating "Artificial Variability" (AKA ineffective processes). They wanted to spread the understanding of effective patient flow from a small group of pilot teams, to all the acute hospital teams across NHS Scotland.
Raising Mental Health Awareness with eLearning
1 in 4 people in the UK experience a mental health problem each year. In England, 1 in 6 people report experiencing a common mental health problem in any given week. While figures like these highlight how common it is for people to experience mental health problems, there are still many misconceptions about mental health, and some stigma around discussing mental health openly.
eLearning for Sport England & UK Coaching
UK Coaching, in association with Sport England, wanted to deliver a free course to all of their sports coaches on how to use an AED (Automated External Defibrillator) and perform CPR if they found themselves in a situation where someone has a sudden cardiac arrest (SCA). Within 3 months of launch, over 30,000 sports coaches and organisers had accessed the learning materials, and over 11,000 had completed the course.
Interactive Training: Medtech eLearning for Linde
Linde Healthcare has developed a complete solution, INOmax® Therapy, for the delivery of inhaled nitric oxide, integrating a dedicated delivery system and support.
Practitioners need training in the operation of the delivery system to ensure the therapy is safe. Up till now this has been via a face-to-face training course, supplemented by videos. In the post-Covid era, an online solution is required, so Linde called on us at Day One to create interactive elearning.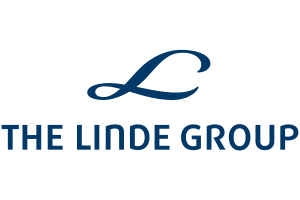 Software Simulations: Roche Pharma & Diagnostics
Roche is a multinational healthcare company and a global leader in Pharmaceuticals and Diagnostics.
We were tasked with creating a digital adoption solution that would reduce overall time to competency with Roche's CRM system, while acting as a useful reference guide for key elements of the software that users could easily refer back to if they got stuck with a specific task. Low-Cost, engaging & effective healthcare training? Can Do
Why not get in touch with us at Day One to discuss how we can help your organisation to engage learners and make your healthcare training more effective?
Related posts from our blog:
Scenario based learning for healthcare
Numerous studies have shown that true to life learning experiences, such as simulations and scenarios, are the most effective for developing work-specific skills. Scenario based learning is a framework where the learning experience is hung around a realistic situation or story.
How L&D can have positive impact on healthcare business goals
No department operates in a vacuum, and while at every senior management meeting an L&D leader will reaffirm the wider business goals and context of their department, placing them more front of mind can help with cross-departmental collaboration. If L&D can develop strong relationships with Finance, Legal / Compliance and PR for example, it will no doubt help your department down the line.
Patient care elearning project with Scottish government & NHS Scotland
An overview of an important healthcare elearning project in progress with the Scottish Government and NHS Scotland.
The work aims to lessen peaks and troughs in patient demand, which can lead to delays for patients.