Welcome to our Jargon Buster – an ever-evolving elearning glossary to explain online training and digital learning terminology – to keep close by as a handy reference for L&D or HR professionals.
Keen to learn more about the latest in elearning technology and techniques in 2023 and beyond, but don't know your AICC from your xAPI?
Don't worry – we're here to help!
There are so many new buzzwords and acronyms flying around in this field of education and training that elearning will soon need its own dictionary. We thought it would be useful to provide an intro to many of the most commonly discussed terms, so this elearning glossary is organised from 0 to 9 and A to Z…
24/7 ACCESS
One of the key benefits of elearning is the ability to make the learning experience available anytime and anywhere – often suiting hard-to-reach learners and the training of staff outside of the workday.
70:20:10 LEARNING
A model for Learning and Development where 70% of learning is experiential (sometimes known as 'on-the-job training'), 20% is through others (peer-to-peer or social learning) and 10% is from formal coursework and training. This a broad, research-based framework for facilitating optimal learning, often attributed to McCall, Lombardo and Eichinger from their studies 1996. However, Charles Jennings, co-founder of the 70:20:10 Institute, has been the most notable proponent of this formula for eLearning and L&D in recent years.
ACCESSIBILITY
Often refers to a characteristic of technology that enables people with impairments or disabilities to use it. For example, accessible online materials can be navigated by people with visual, hearing, motor, or cognitive impairments. Accessible design also benefits people with older or slower software and hardware, while eLearning by its very nature enhances accessibility of learning content for remote learners or those who are unavailable during standard education / training schedules.
ADAPTIVE LEARNING
Adaptive learning is an education or training experience that is customised to the unique needs of individual learners as they progress. This could be provided by a teacher or trainer based on their insights, while adaptive learning systems use data to understand learner strengths, weaknesses and needs in order to automatically signpost the best materials for each individual to work through next.
AI in ELEARNING
While artificial intelligence – AI – is not a concept specific to digital learning, it is affecting virtually every industry, and elearning is no different. OpenAI, and specifically ChatGPT, is one of the buzz topics of 2023, and it's being used to create content of all types. Educators are wary of the ability of learners to use this technology for assignments and essay writing, and as its outputs are theoretically unique, its unauthorised use can be hard to detect.
On a more positive note for L&D professionals, AI-driven learning platforms have for some years been generating learning content recommendations based on job roles and previous behaviours. A culture of learning is encouraged through the use of learning experience platforms (LXP) for employee-led content exploration.
AICC STANDARD
This is a standard for elearning content which guarantees it will be well suited with an AICC compatible LMS. It was designed by the now-defunct AICC for computer-based training in the aviation industry. It is rather like SCORM in principle, but many people thought it was more transparent, robust and secure. See SCORM. The AICC were responsible for work on a standard called CMI-5 based on the xAPI or Tin Can framework standard.
API
Application Programming Interface. An interface for letting a program communicate with another program. In web terms: an interface for letting web browsers or web servers communicate with other programs.
ASSESSMENT SOFTWARE
Computer-based solutions used to systematically evaluate a learner's skill or knowledge level. With the growth of eLearning has come the need for remote invigilation of exams and systems to facilitate this process, which are sometimes known as Remote Proctoring software.
ASYNCHRONOUS LEARNING
If learners study online training courses at different times, the process is known as asynchronous learning. This freedom to learn without the time constraints of the traditional classroom environment is one of the key elearning benefits. Asynchronous learning is a learner-centric way of delivering training, allowing study anytime and anywhere.
AUDIO CONFERENCING
This can be defined as a voice-only connection across three or more locations via a computer using VOIP (Voice Over Internet Protocol) or by telephone. Audio conferencing can be a way of facilitating group, tutor-led conversations that supplement other forms of elearning.
AUTHORING TOOLS
These are software applications, typically used by instructional designers, to create elearning content. Popular types of elearning authoring tool include desktop software, such as Articulate Storyline, Adobe Captivate or Trivantis Lectora, cloud based tools that are subscribed to on a Software as a Service (SaaS) basis and that these days export in HTML5 format, and various Microsoft PowerPoint plugins.
BESPOKE CONTENT
Bespoke content is developed to order – solely for the needs of the purchaser. Unlike off-the-shelf content, bespoke elearning often takes into account not only the subject matter of the content, but the unique working practices, IT systems, and even branding of the organisation.
BITESIZE LEARNING
Studies have shown that focusing training delivery on a single, very specific outcome – bitesize learning – results in greater knowledge retention than trying to cover multiple topics across a theme. Unlike Microlearning, which is more about the mode of delivery, bitesize learning is all about the content and desired outcome. There is no set definition of bitesize learning ideal length, but focused chunks of up to 20 minutes are often recommended for optimal, actionable knowledge acquisition.
BLENDED LEARNING
The benefits of elearning are numerous, with cost saving, convenience, accessibility, multimedia engagement and trackability just a few of them. However, the traditional, face to face training environment still has its place for practical skills development, team building and more. As the name suggests, blended learning is a combination of elearning and the in-person, classroom environment.
BRANCHING
The concept of elearning branching is where the consumed exercise content can vary based on decisions the user makes. This is fundamental to Games Based Learning and important for immersive training such as systems simulations.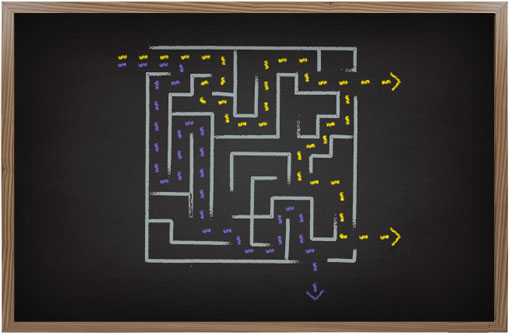 Read our blog post on elearning branching scenarios that includes more about what they are and how to make them both effective and commercially viable.
CMI-5
A new advanced elearning standard which uses the Tin Can or xAPI standard, which in turn was based on SCORM. A work in progress.
COMPLIANCE TRAINING
Compliance training is any learning that is focused on knowledge related to law or industry regulation. Failure to comply will often lead to financial penalties, loss of professsional membership or even legal action, so compliance is the primary driver of training for many organisations. As gaining and retaining knowledge (as opposed to manual skills) tends to be the goal, elearning is often the best mode of delivery for compliance training so that the learner can absorb content in the most appropriate place, time and manner for them.
Related solutions page: learn about our bespoke compliance training content and systems for the likes of Lloyds Bank, Amazon, TSB and other well-known brands.
COMPUTER-BASED TRAINING
Also referred to as CBT, computer based training refers to any course that relies on a computer. A decade or more ago, the content may have arrived on a CD, but it's increasingly common to distribute learning content over the Internet. However it arrives, the trainer does not need to be present.
COURSEWARE
Software or other materials designed for use in an education or training course.
DIGITAL TRANSFORMATION OF LEARNING
Digital Transformation (DX) is the innovative use of digital technologies in order to improve on traditional business processes. Digital Transformation of Learning therefore is leveraging the latest technology to improve L&D. The benefits include greater access to learning materials, faster roll-out and updating of training content, increased knowledge sharing across an organisation, and reduced costs as a result of these new efficiencies.
DISTANCE LEARNING
Also known as Distance Education. Distance learning occurs when student and teacher / instructor are in different locations. Distance learning has been around since long before the Internet and the presence of a computer in nearly every home and office. Distance learning was a form of asynchronous learning, long before the internet. With the Internet and mobile telephony, distance learning can now be both synchronous and asynchronous – or a combination of both.
eLEARNING
Short for 'electronic learning', elearning is any kind of education or training that is accessed via a digital device. As so much elearning now happens over the Internet nowadays, the term is largely synonymous with 'digital learning', web-based training (WBT) and computer-based training (CBT).
eLEARNING STANDARDS
These are principles which eLearning systems and content can adhere to for the greater good. SCORM is an example of a standard which guarantees (in theory) the interoperability of an LMS and the content you place into it. There are also standards such as IMS based around XML, designed with the goal of increasing transparency, enabling easier collaboration, and reducing vendor lock in. Mighty Fine.
Extended Enterprise
Extended enterprise is a business concept that explains how an organisation rarely operates in isolation, but rather through a network of relationships to get a product or service to market.
Extended enterprise elearning involves creating training content not only for staff within your company, but the suppliers, distributors / retailers and partners on whom you rely – at a level and in a mode of delivery that works for them.
It even includes 'customer education' to help ensure that your end-users get the most out of your solutions. An extended enterprise LMS will allow an organisation to create content hubs for each learner group, and these can even tailored to the branding of 3rd parties.
Related case study: See how we created elearning for ghd to train both their sales teams and their global network of 50,000 distributors.
FLIPPED LEARNING
Also known commonly as the Flipped Classroom in the field of education, flipped learning switches the lecture / instructional element of learning away from the face to face environment to the learner's own time, allowing them to take in information at their own pace. Face-to-face education and training environments can then focus on discussion and interaction, facilitating lively debate.
GAMES BASED LEARNING
Education or training content organised into a gaming structure from the outset. This will include an end goal or series of goals, usually with milestones that offer rewards and positive feedback for achievement along the way.
GAMIFICATION
In the context of eLearning, Gamification takes a set of learning content and activities that do not naturally comprise a gaming element, and adds a layer of game design theory and mechanics in order to boost learner motivation and achievement.
There is overlap and frequent confusion between the two terms above – our post on Gamification vs Games Based Learning might help.
ILT to eLearning
Sometimes, you'll want to create new elearning content from scratch. However, you'll often find that your existing instructor-led training (ILT) is shown to deliver great results, and you just want to take what is working well and make it accessible to remote workers and / or reduce the need for face to face, classroom contact.
The need for and benefits of this have become increasingly apparent during the COVID-19 coronavirus pandemic of 2020, when many companies found themselves needing to adhere to the requirements of lockdown / social distancing, while still onboarding and training staff.
We've helped numerous clients to convert ILT to elearning, including the likes of Co-Op, Croda, ghd and Lloyds Business Banking, helping them to deliver highly impactful remote learning at speed and at scale.
IMMERSIVE LEARNING:
This sort of elearning places individuals in a virtual interactive learning environment, so as to replicate possible scenarios or/and to teach particular skills or techniques. Simulations, Roleplay, virtual learning environments and virtual reality (VR) can be considered immersive.
INFORMAL LEARNING
This is education / training that happens outside of a structured instructional environment. Much learning happens through the natural absorption of knowledge from one's surrounding and proponents of the 70:20:10 principle suggest that this accounts for 90% of learning, with only 10% being from formal training.
INSTRUCTIONAL DESIGN
Starts with the training needs and goals of an organisation and an understanding of the knowledge and skills gaps that learners need to work on. Instructional design bridges those gaps though the development of training experiences and is based on sound psychology, learning delivery best practices and use of the latest technology to deliver an effective, engaging experience.
INSTRUCTIONAL DESIGNER
One of the key professionals involved in the creation of elearning content. Typically, an instructional designer will be briefed on the business and training needs, and will use his or her understanding of the students' existing knowledge and skills to create learning content for courses. Practices the craft and science of instructional design. Content development software such as Adobe Captivate or Articulate Storyline are now popular parts of the toolkit for multimedia content creation.
INSTRUCTOR LED TRAINING
Also known as ILT, instructor led training happens in a classroom environment – with instructor and learner together at the same time, in the same place.
INTERACTIVE LEARNING:
Aside from some rather whizzy concepts bearing this name – this is pretty straightforward. Interactive eLearning places an emphasis on user interactions throughout the exercises to enhance engagement and immersion in the subject. This sort of training can also demand decision making, branching and role-based thinking and forms the bedrock of the scenario based approach to training.
INTERACTIVE MULTIMEDIA
In the context of elearning, learners provide input within an online course in the form of selecting options, completing quizzes etc, and receiving feedback as a result. Interactive multimedia is present in many other fields, notably Gaming – an industry that has a major impact on the elearning industry in terms of engagement theory and best practices.
LEARNER ANALYTICS
The term learner analytics refers to the collection, analysis and reporting of data related to progress through a course or ongoing education and training content. It can refer to individual learners – enabling customised interventions – or to groups of learners to help identify team skills gaps and shape elearning content development to meet them.
The similar term 'learning analytics' can relate to data on both the learners and the performance of the elearning materials themselves in helping to meet organisational needs, which can help L&D teams identify content that leads to roadblocks or lower levels of engagement.
LEARNING PLATFORM
A rather general term that refers to the underlying technologies people use to build and deploy elearning. It usually refers the authoring software, the Learning Management System (LMS) or both.
LMS
An acronym for Learning Management System. An LMS is software that manages the administration of training. Typically includes functionality for course catalogues, launching courses, registering students, tracking student progress and assessments.
You can read more about how we create custom white label and corporate learning management systems on our LMS solutions page.
LXP / LEP
The Learning Experience Platform or LXP is a relatively new concept in the elearning space. The idea is that while the LMS tends to be employer-centric as a place to manage essential training for onboarding, compliance etc, the LXP is learner-centric – a place where employees should want to go and learn of their own accord, because the environment is enjoyable and enriching. Content may be curated from a range of external sources based on potential staff interests instead of, or at least in addition to, in-house training needs. Some industry commentators are describing such a system as a Learning Engagement Platform or LEP.
Many define LXP / LEP as being like Netflix for learning content, with key attributes being a slick UI, easy search functionalities and content recommendations based on user preferences and behaviour. A key element is the ability to deliver 'Learning on Demand', so responsive design for mobile phones and tablets, as well as desktop computers, are important for 'Anytime, Anywhere' and 'Just in Time' learning.
These platforms are typically an add-on to an LMS, but we're likely to see the lines blurred between LMSs and LXPs / LEPs over the next few years, as employers will want the simplicity of an all-in-one solution.
MICROLEARNING
The use of Microlearning refers to the delivery of training content in very specific, short bursts.
Unlike Bite Size Learning, which is more about the desired learning outcomes, microlearning is all about the mode of delivery. However, microlearning is ideal to deliver bitesize learning modules. It often takes the form of videos, animations or brief articles, and is ideal for online and mobile learning when new knowledge is required at speed.
MOBILE LEARNING / mLearning
Sometimes known as mLearning – mobile learning takes place on a handheld device, such as a mobile phone or tablet computer. This is the most accessible form of anytime, anywhere learning. In 2023, mobile accessibility will be seen as a given, and some elearning is now designed to be mobile-first, which means that training content is designed primarily for use on a phone or handheld device, with a laptop or desktop experience now being seen as secondary.
MOOC
MOOC stands for 'Massive Open Online Course'. The idea is that learning and training materials on a topic are made available to anyone and with, in principle, no limit on the numbers who can access and use them. The term MOOC was coined in 2008 and MOOCs began to become popular as educational tools in 2012, with many universities starting to create them.
There are frequent arguments about whether certain platforms described as MOOCs meet the definition, particularly when learning materials are made available but not structured as a 'Course', or not free and 'Open' to all. However, the spirit of a MOOC is that learning is made available to all without constraints, with content format and structure being the less important elements.
MULTIMEDIA LEARNING
A cognitive theory – multimedia learning is based on three main assumptions: there are two separate channels (visual and auditory) for processing information; there is limited channel capacity; and that learning is an active process of filtering, selecting, organising, and integrating information. This theory was first popularised by Richard E Meyer in his book, Multimedia Learning, published in 2001.
MULTI-TENANCY
Multi-tenancy is a general software concept, where a single instance of any application is shared between multiple groups – 'tenants' – but each experiences a unique, tailored environment. In the context of learning management systems, a platform can deliver a tailored set of content, features and even branding for different departments, locations, and even external partners, such as suppliers or dealerships. Read about how our bespoke, multi-tenancy LMS solutions have made this possible for some of our clients.
OFF-THE-SHELF CONTENT
Often called 'Generic' or 'Ready-to-Go', Off the Shelf content has been developed to be useful for a relatively large user base across multiple organisations. The opposite is bespoke content that's made to order for a specific organisation. Off-the-shelf elearning covers a certain area of knowledge or skill that could be relevant to multiple customers.
ONLINE LEARNING
Frequently used synonymously with elearning and meaning the same as web-based training, online learning describes education or training where materials are distributed, and communication takes place, over the Internet.
ROLEPLAY
In eLearning, this term usually refers to exercises which involve at least 2 people who are asked to complete interactive tasks, facilitated by a computer program. As the names suggest, this normally involves the people involved being invited to perform roles, with Customer and Assistant being a typical example. It is a natural extension of the scenario paradigm and can fit well with system simulations. We talk more about roleplay on a blog post here.
SCENARIO-BASED TRAINING
A Scenario is a framework for exercises, where the learning experience is hung around a realistic situation or story. It presents an exercise where the student is invited to imagine a situation and is sometimes called immersive learning. Read our post on creating scenario based training with eLearning to learn more. In learning, scenarios are often referred to as instructional scenarios.
SCORM
Sharable Content Object Reference Model – Now there is a mouthful. SCORM is a standard followed by most content authoring software and most LMSs. In a nutshell SCORM compatible content will play nicely on a SCORM compatible LMS. SCORM will also guarantee basic tracking abilities and management information for the content. There are different versions of SCORM and other issues, but this is basically what you need to know. SCORM does the bare minimum of what you really want for a serious eLearning set up, and this is often enough. See also xAPI and AICC.
SELF-PACED LEARNING
If learners are able to access and use education and training materials at a time that suits their schedules and preferences, this is known as self-placed learning. Without the traditional classroom timetable, learning is open to those with other commitments, such as paid employment or childcare responsibilities.
SIMULATION
In elearning a simulation is an instructional scenario where the learner is invited to interact with a facsimile of a real world object to help achieve learning objectives (intake of breath). The target object can be diverse as a computer system (see systems simulations), a complex device such as piece of machinery or a human body. A key goal of the simulation is to make the user interactions as realistic as possible given the limitations of the device the elearning will be running on.
SOCIAL LEARNING
Social learning has been ever-present through human history in the form of copying others and sharing knowledge through any form of communication. Today however, social learning generally refers to knowledge sharing and the debate of training through online discussion boards or social media networks, such as Facebook. Social learning is the 20% in the 70:20:10 model.
STORY BASED LEARNING
A framework for exercises where the training is accompanied by an unfolding story or narrative to help guide the learner and stimulate their thought processes. In elearning, this is highly similar to scenario based training, but with a focus on putting the learner through a precise journey.
SYNCHRONOUS LEARNING
Whether in a face to face classroom environment or online in a live lecture or webinar, synchronous learning involves instructors and learners communicating at the same time. When people need to conduct education or training as a group at the same time, but being in the same place is not possible, it can be facilitated by virtual classroom software.
SYSTEM SIMULATION
True to life representation of an organisation's in-house software or systems, allowing staff to practise using them in a safe environment. Learning of this type has proven to be highly effective with 90% retention rates as opposed to 30% for oral presentation. Read our blog post on effective system simulations in eLearning to learn more. Often the simulations are embedded in realistic scenarios and/or with plausible narratives.
TALENT MANAGEMENT SYSTEMS
You could say that talent management systems sit at the intersection of learning and HR technologies. A talent management system (TMS) may help to organise, deliver and analyse training for onboarding and ongoing staff development, which are under the L&D remit and usually catered for within a Learning Management System (LMS). However, a TMS will be broader and cover an employee's time before and after their period in a certain role – helping to manage Recruitment, Performance Management, Compensation Management and Succession Planning as well.
L&D managers and trainers often want a more specialised platform for the learning side, so many talent management systems will integrate with popular LMS solutions.
TIN CAN
The successor to SCORM (aka xAPI). Essentially does the same job as SCORM but addresses a lot of the problems and weaknesses of the SCORM standard which was designed not long after 2000 when the web was in its infancy. It also introduces a host of new functionalities and complexity with that. So it is debatable whether it will really replace SCORM in the long run. One big advantage is that it supports content being played outside of the LMS. For example, on an app on a phone with an intermittent internet connection. So this is a benefit for mobile learning.
VIRTUAL CLASSROOM
Where a live education or training environment is created online and accessed via digital devices, this is known as a virtual classroom. Learners and instructors need to use the same virtual classroom software to communicate, and this might be downloaded as a desktop application or mobile app, or accessed online with cloud-based software.
VIRTUAL REALITY (VR)
Virtual Reality is where the senses are taken over by technology to create a computer generated environment. It usually applies to vision – and deployed via the ubiquitous VR headset which has been a star news item since 2010. For e-learning this is a hot topic, but a tricky one since VR itself is still in its infancy with a lot of problems to overcome – in particular costs and standardization.
WEBINAR
A webinar is a seminar conducted over the Internet. Although sometimes made available as a recording, webinars are usually conducted live, enabling real time participant debate, with the sharing of diagrams, slides and other images, audio and other multimedia content.
WEB-BASED TRAINING
Also known as WBT, web-based training refers to any time of instruction where materials are delivered and communication happens primarily via the Internet.
XML
If you are not technical this acronym can crop up in elearning and be rather bewildering, but we shall mention it because it is genuinely a good thing. No, its not a programming language. It is a format for documents which means they can be understood by a human or a machine. This means the documents are inherently open and can be edited by anyone or anything. For elearning, if your content is based on XML then you are not tied to your vendors to maintain it. Trivantis Lectora gets a gold star from us for using XML. We use XML for Systems Simulation.
xAPI
See Tin Can.
Know of some more important jargon that we haven't yet explained here on our elearning glossary? Please contact us to give us the heads up and help us to help L&D managers or HR teams understand the latest online learning terminology in 2023 and the years to come.