Software Simulations: Roche Pharma & Diagnostics
Interactive elearning content and software simulation training for leading, global pharmaceutical company – Roche.
Bespoke CRM System Training
Roche is a multinational healthcare company and a global leader in Pharmaceuticals and Diagnostics.
We were tasked with creating a digital adoption solution that would reduce overall time to competency with Roche's CRM system, while acting as a useful reference guide for key elements of the software that users could easily refer back to if they got stuck with a specific task.
When Roche developed a new, in-house software system powered by the Salesforce CRM, Day One were called in to help with their user onboarding.
We developed interactive simulations for their teams to practise using the software in a safe environment that felt true to life, mimicking the real system.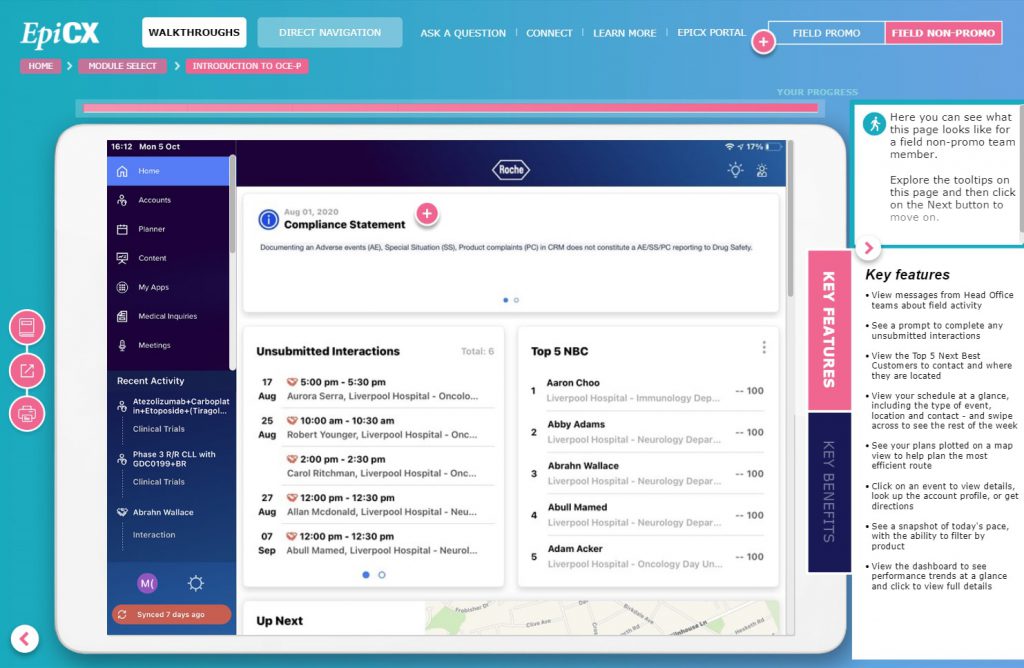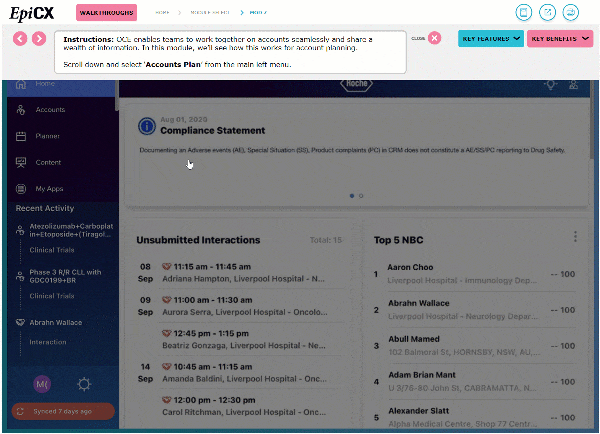 The goal was to deliver a personalised learning experience and support full adoption of the software with minimal disruption – eliminating the need to deliver training in a classroom-style environment.
The simulations would also act as an internal marketing tool, helping their L&D and tech teams with communication around the benefits of the new software to encourage uptake.
Software Walkthroughs & Interactive, Self-Guided Content
We created a combination of 20 self-paced guided tours or 'Walkthroughs', taking learners through the main features and benefits of the software.
There was also more interactive, contextual (or 'Direct Navigation') guidance that users could explore according to their own use cases and areas of interest.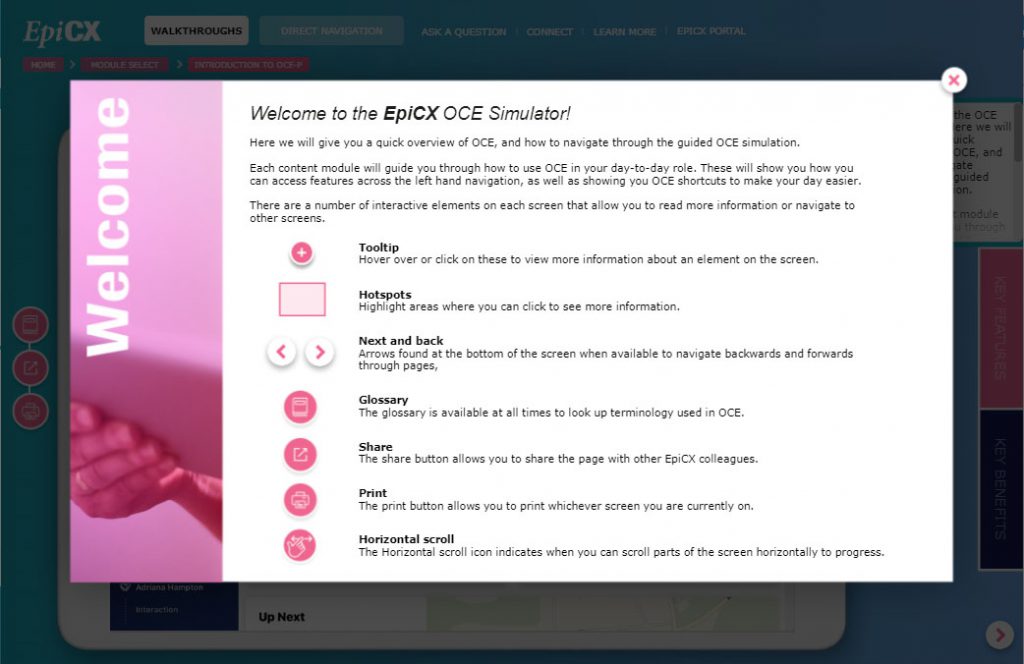 Tooltips showed users where they could explore a deep-dive into specific functions of the software
Glossaries were always available to explain any client or software terminology used within the simulation
Quick link Share Buttons via always there icons enabled to learners to share with colleagues any sections that they found particularly interesting or useful
A print option allowed the learner to print out a screenshot of any part of the software simulation they were looking at.
The Result: Client Branded & Easy, Remote Access
Created within a client-branded, bespoke LMS solution, this CRM training also enabled learner analytics and the ability to add to and update the elearning down the line, making it both powerful and future-proof.
As the majority of users would be accessing the live system via a tablet device, we created a tablet-based design to make transition from simulation to use of the live system as seamless as possible.
Delivered via their LMS with single sign on (SSO), easy to access, remote learning was enabled 24/7, from any location with Internet access.

Engaging eLearning and Software Simulations? Can Do
Whatever your elearning or software simulation training requirements, Day One can deliver on them with a bespoke solution to help develop confidence and skills across your teams.
Want to learn more? Contact us for an informal discussion about your needs.
Related solution
Simulation Training
Related case study
Scenario Based Training for BOC