Competition Law & Anti-Corruption Training - OGCI
International competition law and anti-corruption training for OGCI.
Interactive elearning to improve employee engagement and ensure compliance across a global user base.
Accelerating Towards Net Zero Emissions
The Oil and Gas Climate Initiative (OGCI) is a CEO-led consortium that aims to accelerate the industry response to climate change. It brings together 12 of the world's largest oil and gas companies.
Their investments are helping to reduce methane and carbon dioxide emissions, and can recycle or store carbon dioxide. OGCI's performance data showed that members' upstream methane emissions have fallen by 40% over 5 years, so the initiative is already paying dividends.
OGCI and its members are committed to act in accordance with all applicable domestic and international antitrust and competition laws in the US, UK and other jurisdictions.
The Challenge
Their elearning had previously been a collection of pre-recorded webinars – easy to consume, but passive as a learning experience. OGCI wanted to modernise their training in order to increase employee engagement and learning retention, and improve knowledge-sharing and decision making.
They had targets around reducing learner seat time and increasing the quantity of training content delivered – i.e. greater training efficiency.
OGCI wanted to work with a company with a wider range of technical and content development capabilities than their previous elearning provider, and to achieve an overall higher level of quality and user engagement.
So they brought in the Day One team to make Learning By Doing part of their L&D toolkit.
The Can Do
During our consultation process, we worked closely with them to understand how their member companies need to act in accordance with applicable domestic and international anti-corruption laws.
Working closely with subject matter experts, we developed scenario-driven international antitrust, global competition law, and anti-corruption training content.
eLearning modules provide succinct, targeted compliance learning to a globally-distributed staff, covering:
Data protection
Compliance policies
Directors' duties
Insider trading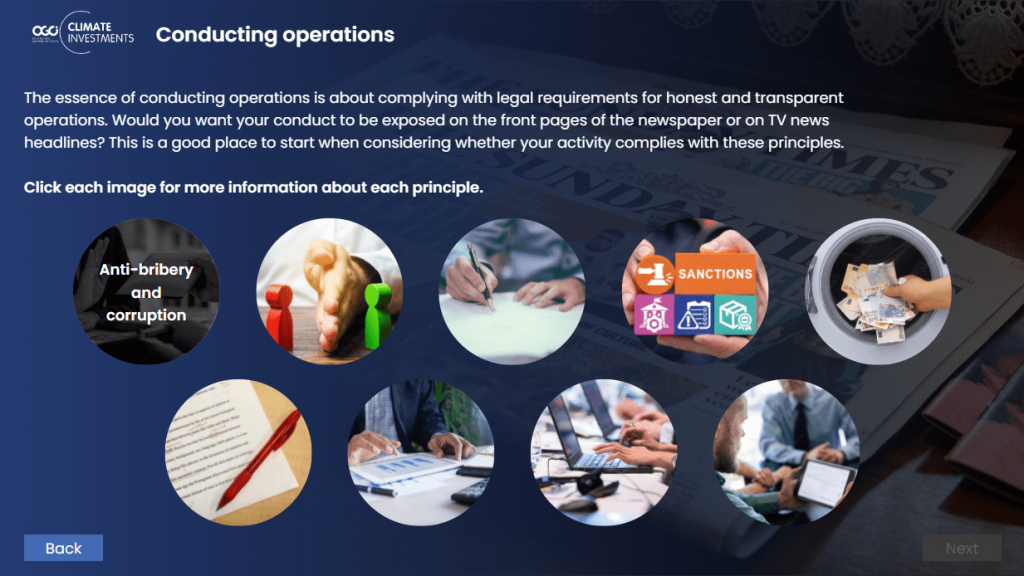 An initial six 30-min modules include audio narration and typical work-related scenarios experienced by a set of fictitious OGCI staff members.
Learners are required to assist their virtual colleagues with their decision-making.
We also developed a 'refresher' for each module. Refreshers are mandatory annual training at OGCI.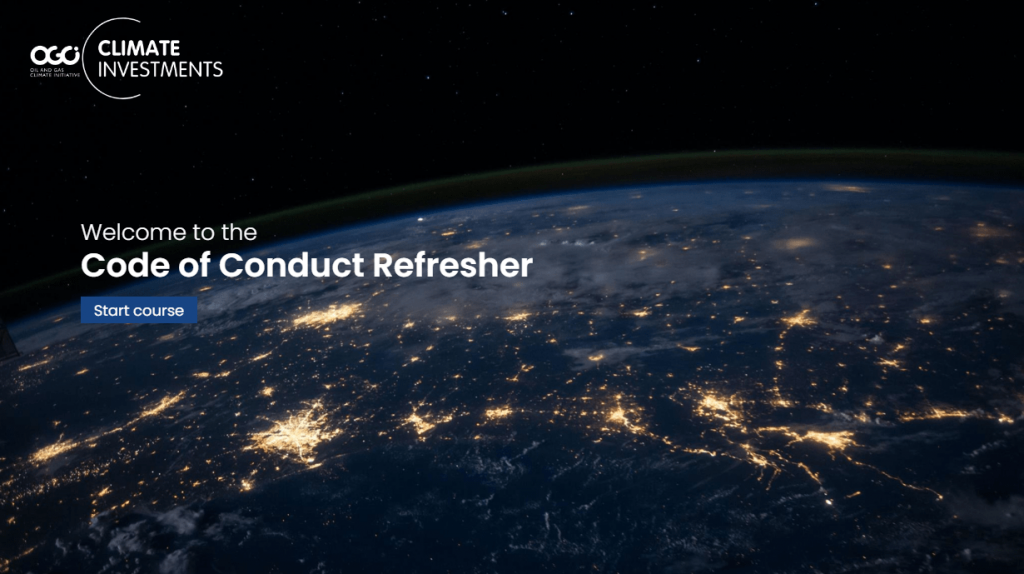 The Result
OGCI have been delighted with the results so far.
They're now looking to continue working with us at Day One to make interactive, immersive learning a key driver of employee engagement, as well as ensuring regulatory compliance.
Want to make training more engaging through interactive scenarios and Learning By Doing?
Whatever your immersive elearning, content development or learning platform needs, the Day One team can deliver on them with a bespoke solution.
Want to learn more? Get in touch for an informal discussion about your needs.
Related solution
eLearning Content Development
Related case study
Onboarding Training for Lloyds