IT Training in Challenging Environments
The Internet Society (ISOC) called on us to create multilingual IT training for people in hard to reach parts of Africa and India. Our elearning solution was easy to follow, simple to translate and deliverable to learners with limited tech infrastructure.
We are lucky enough to live in a country where the internet is widely accessible, allowing us to log on just about anywhere. The Internet Society (ISOC) want to make this a reality for everyone, increasing access to information, education and opportunities worldwide.
We're now helping their work by creating Wireless Network elearning for local teams in rural areas to enable them to set up wireless internet in their communities.
But how do you deliver complex technical elearning content in multiple languages to a learner population that doesn't have reliable Internet access?
One of ISOC's projects was to work with communities in Africa and India to help set up wireless internet in places where it was either too rural or too difficult to install hard wired internet.
They needed an elearning tool that would teach people from these communities how to set-up, operate and maintain their own wireless internet networks. The target learners weren't telecoms experts, so this techie content had to be delivered in a way that would be straightforward for them to follow.
The course would be delivered to learners across a wide geographic area, so it had to be quick and easy to localise the content for different languages and cultures, as well as being relevant to different environmental conditions.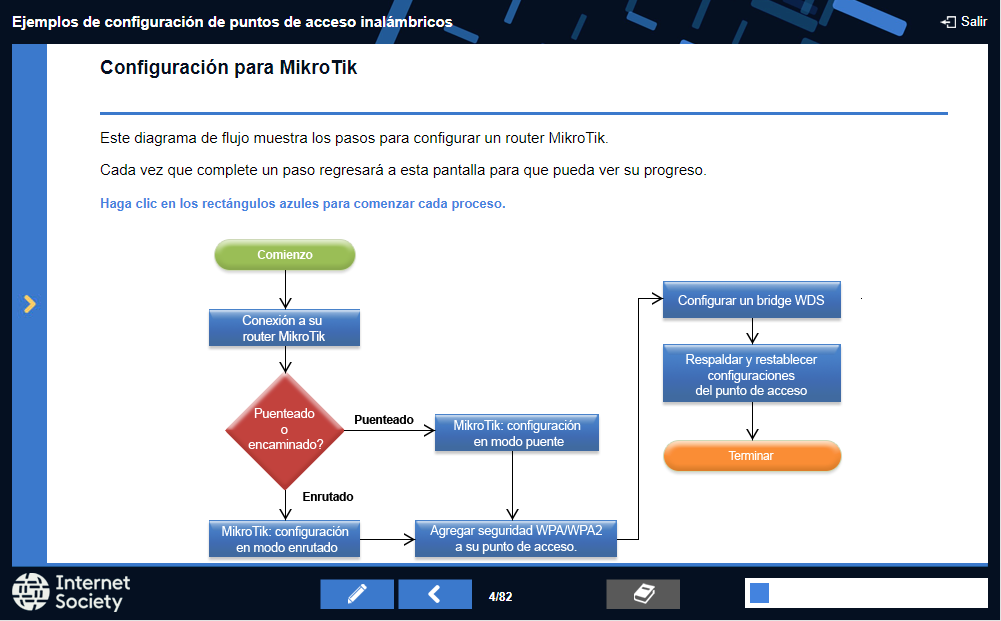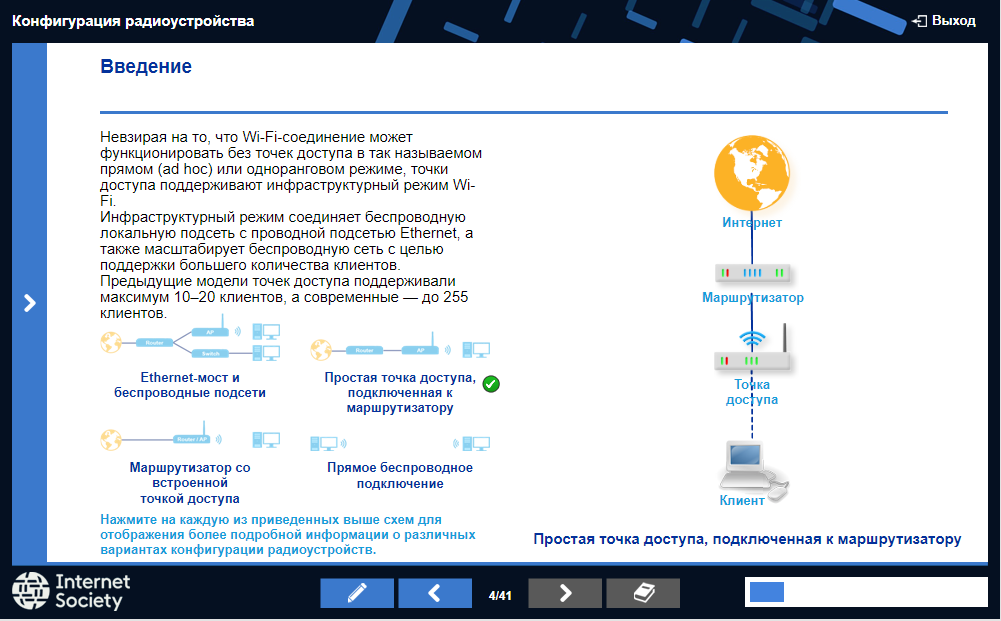 As if this weren't enough of a challenge, we also had to be very mindful of how the learners would be using the programme, as they would mostly have a very basic computing infrastructure, and of course they wouldn't yet have internet access (bit of a chicken-egg scenario there).
Engaging, visual-led content
What we came up with was a course that provided an engaging and very visual step-by-step guide to setting up a wireless network. Using mainly a "show not tell" approach, the techie language was kept to a minimum so as not to turn anyone off.
The course included case studies, sample calculations, hardware and software shopping lists, hints and tips on how to analyse network requirements based on an area's geography and environmental conditions, plus advice on how to support and maintain a network once you actually have it up and running.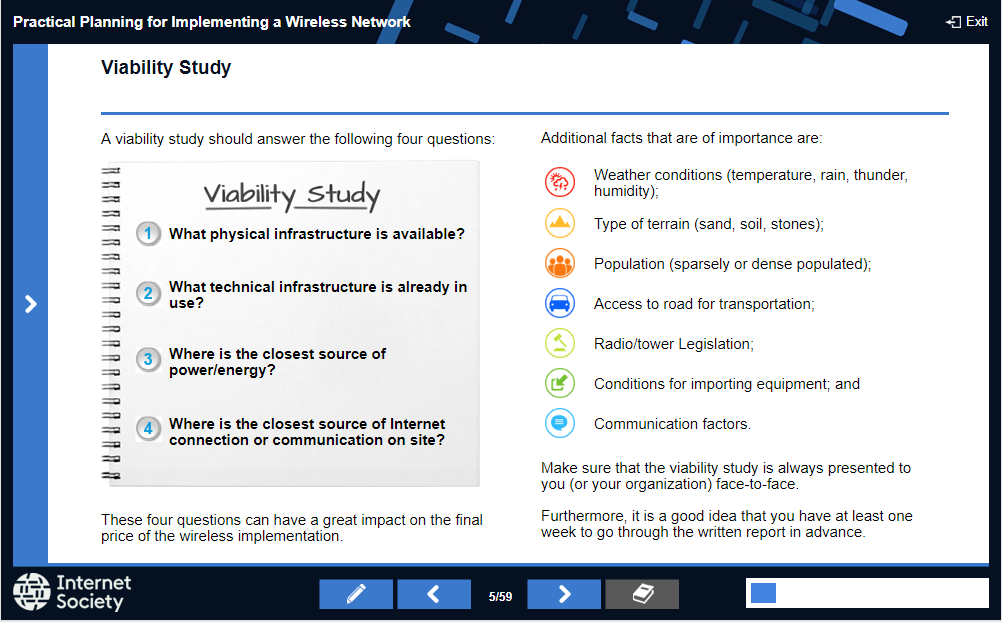 The highly visual approach made it very quick and easy to translate into multiple languages to be delivered to learners in different locations.
The final product was delivered in a way that could be pre-loaded onto a pen drive and used on any PC, laptop or mobile device, so it could be used without an internet connection.
Based on how successful in Africa and India the course we developed was, ISOC extended its outreach project even further, asking us to translate and develop additional versions in French, Spanish and Russian.
They were so pleased with our work that they've commissioned us for several more projects since.
"The team at Day One are professional, knowledgeable, responsive and customer-oriented, and often take the necessary initiative to maintain our business. The competent design and development team has used their expertise in instructional design, pedagogy and content development tools to help us expand the depth and breadth of our curriculum offerings."
TORAL COWIESON
Senior Director / Internet Leadership / The Internet Society

Want help with technical training or elearning for global projects?
Whatever your training requirements, the Day One can deliver on them with a bespoke solution.
Want to learn more? Contact us for an informal discussion about your needs.