Medical Professional Development Training - BSDS
Multimedia elearning content for BSDS to support medical professional development among doctors and nurses in the UK and worldwide.
Expanding reach beyond face to face training.
Improving Surgical Skills
The British Society for Dermatological Surgery (BSDS) is the UK's leading association for professionals in dermatology. The society has the aim of improving surgical skills among UK doctors, nurses and support staff, and is now looking to increase its reach further afield.
Their work promotes excellence in skin surgery, laser treatments, and related procedures. By providing high quality education in dermatology and skin surgery, BSDS helps to improve treatment outcomes for patients, as well as supporting medical professionals from trainee to expert level through their careers. 
BSDS training delivery had previously been done face to face, and they wanted to broaden their reach through the use of elearning. Their audience have high-expectations as the majority of learners are highly experienced physicians, specialist nurses and dermatological surgeons.
BSDS had a firm commitment to making the learning highly engaging – no same-old, click-next, text-heavy content. So they brought in the Day One team to make their elearning engaging, accessible and scalable.
BSDS chose to work with Day One having seen interesting examples of our healthcare / medical elearning development projects, as well as examples from other sectors, demonstrating a range of capabilities.
Diverse experience was important to BSDS because the content was not just on technical, medical information and techniques but the soft skills related to patient consultation and care to deliver a high-quality, holistic patient experience.
We worked with their subject matter experts on bespoke elearning content that involved 3D design, animations and video.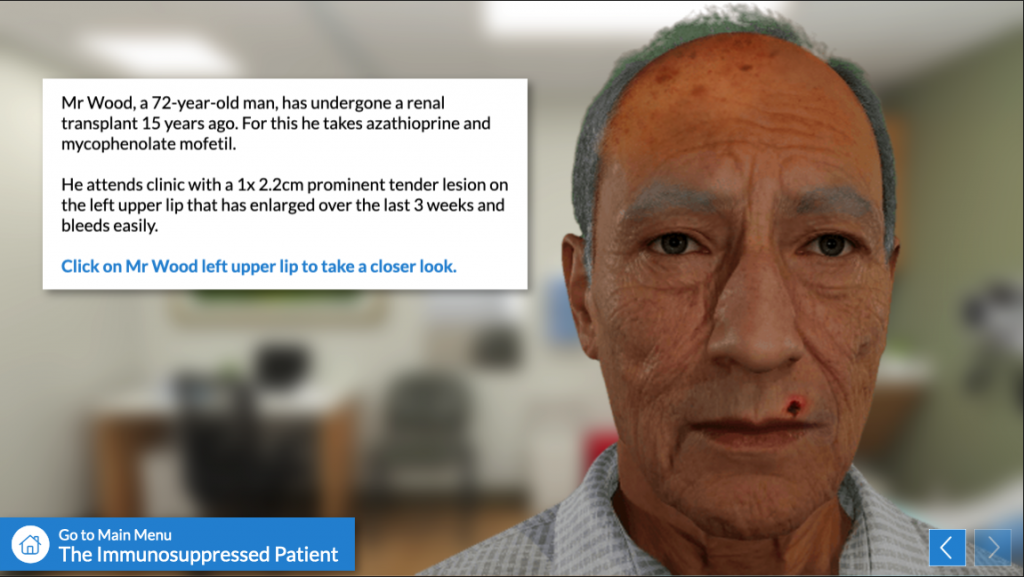 Hover over the above image to play video
The elearning modules we developed include:
Local anaesthetic
Surgical anatomy
Consent and medical-legal issues
Biopsies
Pre-op (patient consultation techniques and information gathering)
3D animation and videos were used to explain detailed anatomy and surgical procedures. 
The elearning content is available via the BSDS WordPress LMS (Cluvo) and accessed via their WordPress website.
Hover over the above image to play video
BSDS have been delighted with the results so far.
Professionals from various fields of dermatological surgery have enjoyed contributing to the training storyboards as subject matter experts, so it has been a truly collaborative process.
Users of the content have been excited about what this new style of training is bringing to BSDS and its membership.
Want to make training more engaging through interactive scenarios and immersive learning?
Whatever your learning design and elearning content development needs, Day One can deliver on them with a bespoke solution.
Want to learn more? Get in touch for an informal discussion about your training requirements.
Related solution
eLearning Content Development
Related case study
NHS Patient Flow