Training line-managers to support pregnancy at work
Unique elearning and resources for managers, designed in conjunction with parents, experts and cross-sector organisations.
Highly Commended at the 2022 Third Sector Awards in their 'Breakthrough of the Year' category.
Tommy's is the largest UK charity researching the causes and prevention of pregnancy complications, miscarriage, stillbirth, premature birth and neonatal death. They provide support and advice to women and families.
Tommy's have unique authority in the UK in relation to pregnant employees and how they are and should be treated in the workplace. They wanted to enhance their subscription offer to HR Departments by supplementing it with a high-quality elearning portal for line-managers: 'Pregnancy at Work'.
Hover over the above image to play video
Day One were chosen because of our recent experience creating elearning content of a similarly sensitive nature on the topics of safeguarding, helping victims of sexual violence, and mental health.
Day One created a Learning Management System that was branded and customised for Tommy's, along with two 30-min elearning modules on Pregnancy and Employment.
We developed an immersive learning experience that included practice in having difficult conversations with someone who has just lost a baby and about other highly emotive subjects.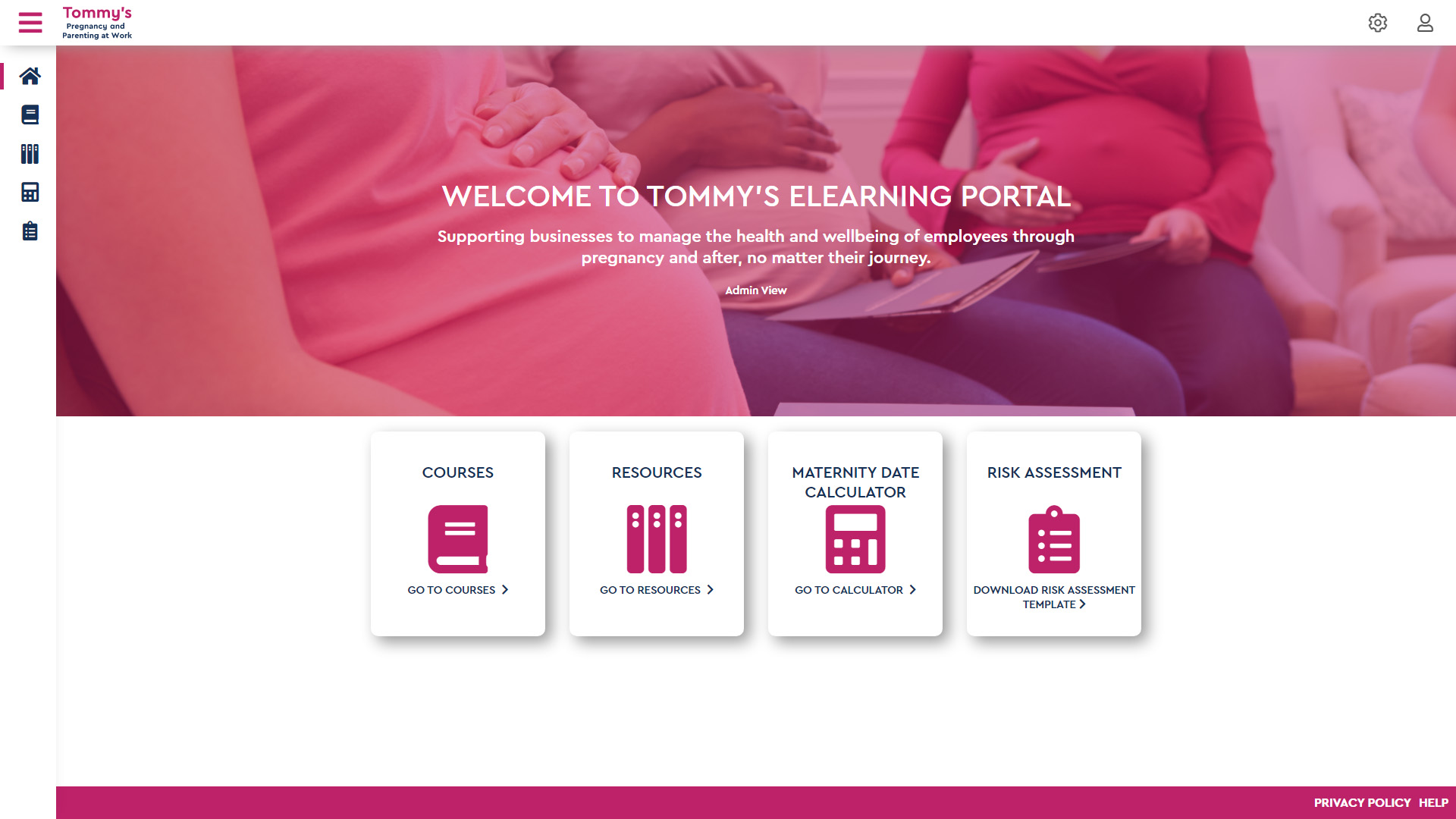 The Tommy's LMS includes access to other resources (PDFs, videos etc). Outside of the courses, there is an online pregnancy key dates and actions calculator, and an online risk assessment. The elearning comprised 2 key modules:
'Pregnancy at work / return to work' – a guide for line managers of pregnant women and their partners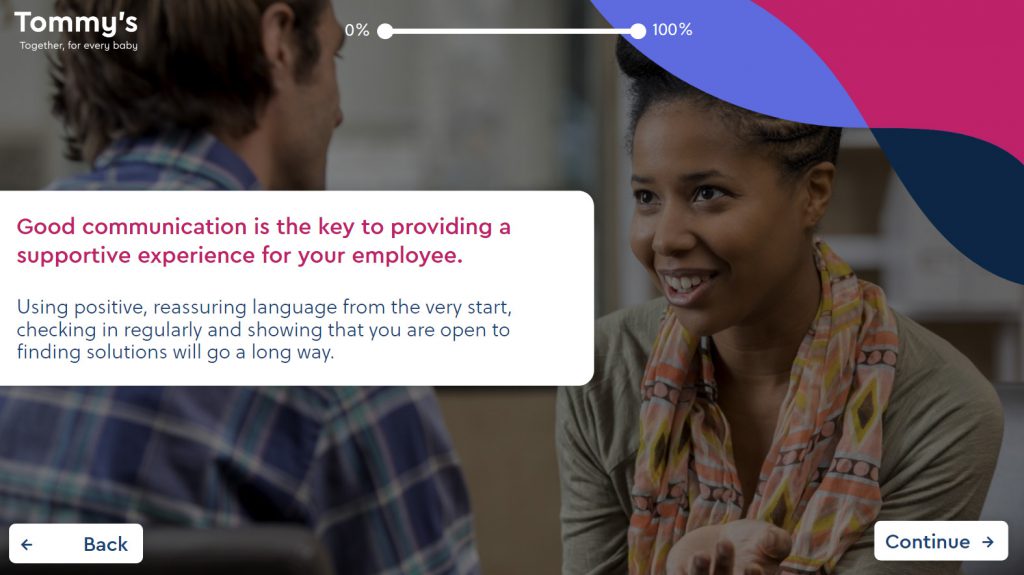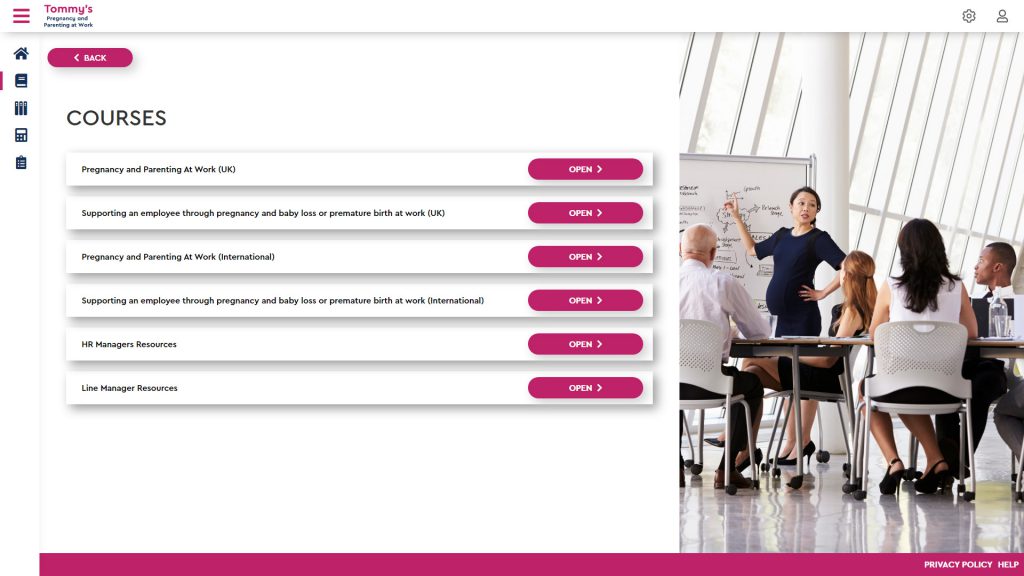 'Pregnancy Loss' – the legal position, and how to communicate and manage pregnancy complications or loss with empathy. How to best support the pregnant employee.
Starting with a version citing specific UK government policies, we then created more general content relevant to a global audience.
Client and end-user feedback was extremely positive, and several major brands signed up for the training within 3 months of launch, including the likes of Santander and Virgin Red.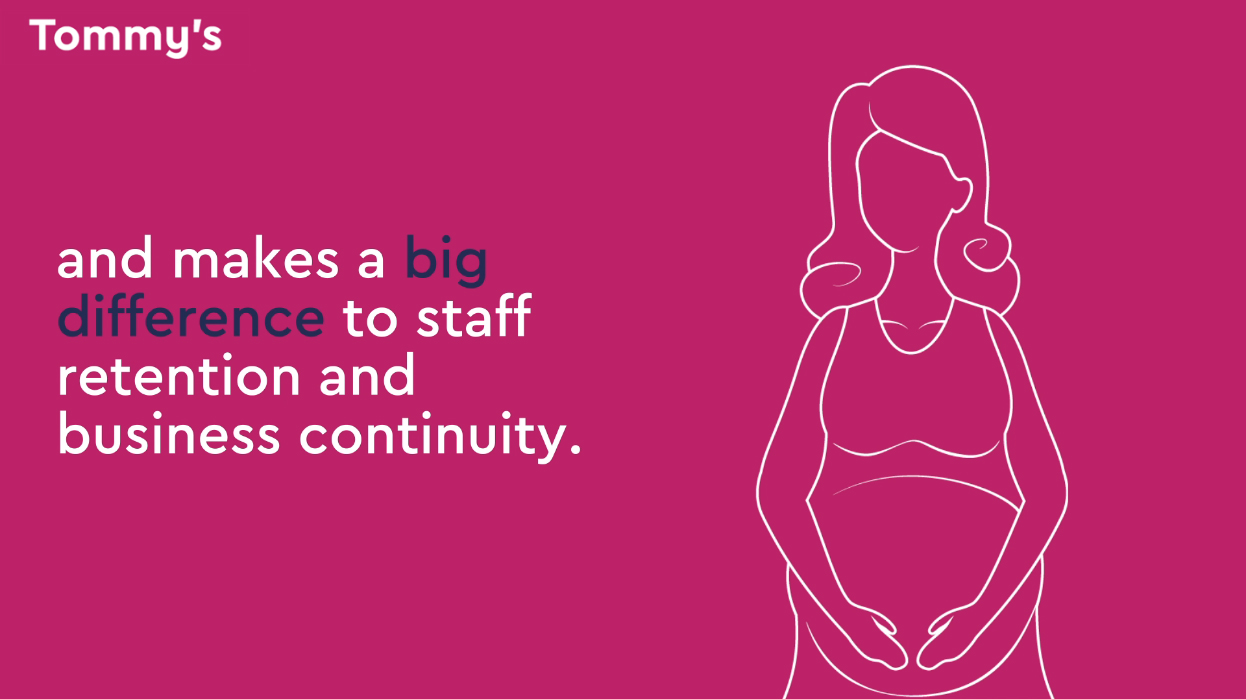 "Pregnancy at Work has been shortlisted for the most prestigious awards in the charity sector – The Third Sector Awards – for Breakthrough of the Year!
I really am super proud we've been shortlisted as we are up against some HUGE names and initiatives."
ROSIE LEVERTON
Head of Corporate Partnerships, Tommy's
Furthermore, this elearning for Tommy's was Highly Commended at the 2022 Third Sector Awards in their 'Breakthrough of the Year' category.

Help with content development? Can Do
Whatever your training requirements, Day One can deliver on them with a bespoke solution.
Want to learn more? Contact us for an informal discussion about your needs.