Nearly every business is now on a digital transformation journey, but the most successful organisations are often those that understand and embrace change fastest, and with vigour.
As many businesses look to accelerate their digital transformation, here we look at how elearning should not be just the online training component, but how it can help you roll out web-based collaboration, communication and customer care to find new efficiencies and outpace your competition.
Digital Transformation Definition
The State of Digital Transformation
eLearning and Just in Time Training
The State of the eLearning Market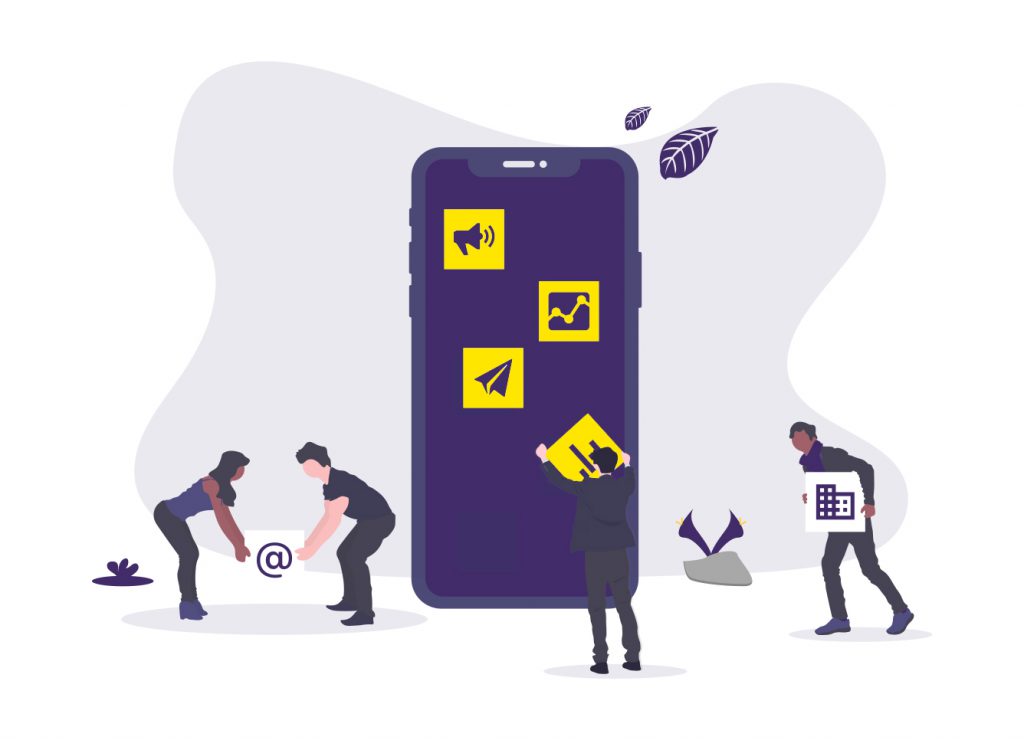 New Urgency in Digitisation
For many businesses, digitisation has been in incremental steps taken in a manner specific to each organisation.
However, the Covid-19 coronavirus pandemic of 2020 has made digital transformation (DX) urgent, transparent (who hasn't used Zoom at least once over the last few months?), and even essential to the survival of many businesses.
It's become even clearer that while elearning is now being adopted more widely to ensure training continuity for those who still need to onboard and upskill staff, it is also both a key component and key facilitator of any good digital transformation strategy.
Let's first put it in context though…
Digital Transformation Definition
There are many definitions of digital transformation that all explain the process of adopting digital technologies to modify business processes and culture.
Our favourite digital transformation definition comes from George Westerman – author and principal research scientist at MIT – quoted in CIO Magazine:
Digital transformation marks a radical rethinking of how an organization uses technology, people and processes to fundamentally change business performance
The standout points here are 'radical rethinking' and 'fundamental change'. Digital transformation is not about adopting some new software here and there to gradually modernise and keep with the times. It's about completely changing how you do business – with a bang.
The State of Digital Transformation
Digital transformation is a fast growing area of business in itself, reported by Forbes in 2018 to see enterprise investment of over $1.3 Trillion. However, McKinsey research shows that 70% of digital transformation projects fail to meet their expected goals.
The same goes for IT projects in general, and the failure is rarely down to the solution itself, but to the communication of its rationale and future benefits, and a lack of buy-in from relevant stakeholders beyond those driving the implementation.
Digital projects can meet with resistance because there is a perceived learning curve and disruption to the status quo – "I don't have time for this right now" is a common complaint about new digital / IT initiatives.
Recent events have forced many to rethink that position though, and now everyone is adopting remote collaboration and communication tools to work from home, and face to face is no longer an option for many roles.
While everyone was taken off guard by Covid-19, everyone can and should be aware of technological advances that are likely to negatively impact those who do not prepare for the increased rate of change made possible by emerging tech, such as artificial intelligence (AI), the Internet of Things (IoT) and big data.
In their 2018 report – Skill Shift: Automation and the Future of the Workforce – McKinsey estimated that, in the US and Western Europe, hours spent on Physical & Manual and Basic Cognitive tasks will fall by 14% and 15% respectively, while hours spent on Technological work will increase by 55% between 2016 and 2030: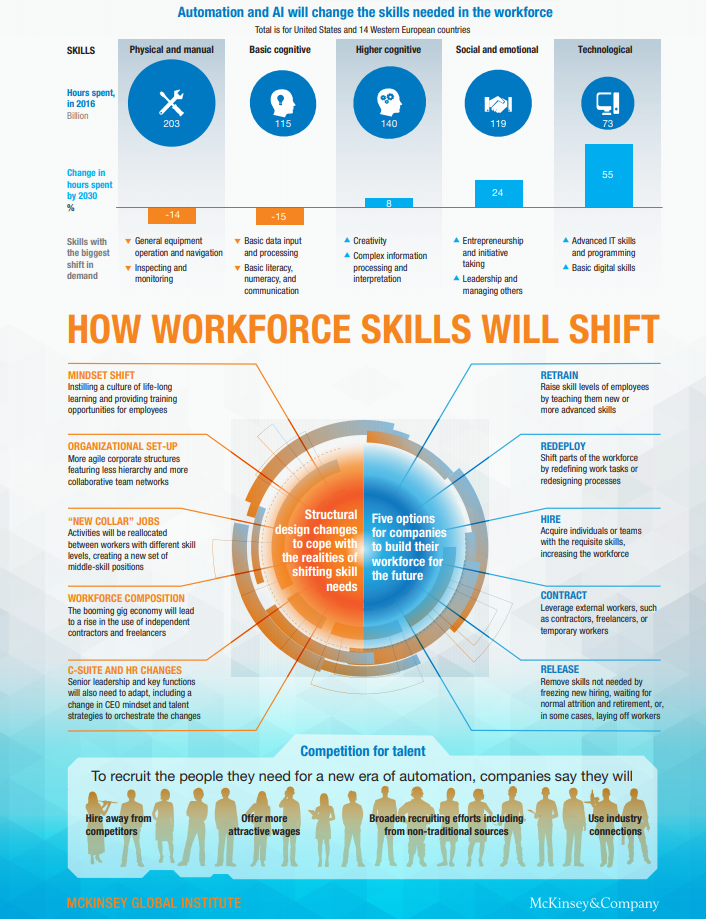 This huge shift will be driven by automation and AI technologies.
In a time where disruption is happening for everyone, proactive digital transformation can be the answer to many of the new problems being faced now, and on their way in the near future.
eLearning and Just in Time Training
Digitisation is having a major impact across every sector. This has forced employees in many roles to be continuously learning to keep up with technological developments, as well as performing their day to day work tasks.
Easy and always-available elearning is giving forward-thinking organisations greater ability to evolve, providing their employees with 'Just-in-Time' training materials at the point and speed of need.
With developments in learning analytics, organisational training is becoming much more measurable and linkable to staff performance, meaning it can now be better aligned with overarching business goals.
At the same time, we have a greater shift towards remote work and 'virtual teams' that can comprise a mix of office-based, in-house staff, external contractors, and partner organisations – often across multiple countries and even timezones.
For a business to change at speed and scale, you can't limit the required learning to a single time and place.
Therefore, when you are implementing the extensive changes involved in a digital transformation project, you need a way for the reasons and practicalities to be explained across your network and to guide all those affected.
With elearning, you can create a knowledge hub for anytime, anywhere learning that will evolve as training content gets updated to keep pace with new systems and processes. This knowledge can be instantly shared with new recruits, while being retained if experienced staff were to leave.
The State of the eLearning Market
Even before the Covid-19 outbreak, elearning was one of the fastest-growing markets globally, expected to be worth $350 Billion by 2025.
For an increasingly disparate workforce, often with staff based across multiple offices and even timezones, elearning has been shown to help businesses to reduce time to competency for new hires, save money on training delivery when compared to traditional training, and improve learning outcomes – boosting productivity.
The additional learning analytics also gives greater insights into areas for improvement – feeding into the general increase in data collection and analysis across a business.
Still though, while every top corporate has been investing in elearning for years, it is often not integrated into the broader digital transformation strategy. Furthermore, many small to medium sized organisations have lagged behind in this one area of digital transformation.
Many top companies are now seeing elearning as an area of potential advantage though. Brandon Hall Research found that elearning reduces training time by 40-60%, while 72% of companies using elearning believe that it gives them an edge against competitors.
Reduced Digital Resistance
Even those business leaders who had previously resisted digitisation in certain aspects of their collaboration, employee training, and service delivery – for fear that face to face was the only way to get things done properly – have been forced to rethink their positions.
And many have been surprised that work done digitally can prove to be faster, cheaper and more effective – without the disruption and loss of personal connection that many feared.
Those organisations with an eye on the future as well as the here and now are adopting an accelerated digital transformation process that fully embraces the features and benefits of elearning and remote work tools.
Those with a strong digital transformation strategy for training and managing their staff and business processes, and for interacting with their customers, will be best placed to weather the storms and even thrive on the other side.
With this enhanced level of comfort with online communication and collaboration tools, now is the time to make elearning a fundamental part of onboarding employees, training staff in new processes, and future-proofing your organisation.
Conclusion
For those already on a digital transformation journey, elearning may have been a missing element that could not only enhance your progression, but be a key tool in delivering on your agenda.
For those organisations looking to design and implement a digital transformation strategy, elearning can help you to roll out and communicate new processes, and lock in hard-won knowledge to share across teams and to benefit your future new hires.
eLearning is therefore not just part of the L&D and HR toolkit, it can and should be seen as the glue that helps your organisation to collect, share and retain the knowledge that will ensure digital transformation success.