Good user adoption strategy, process and implementation are key to successful staff onboarding with new software and systems, so should be part of your business plan.
"The Biggest Barrier to Enterprise Application Success:
User Adoption"
Oracle

Many IT teams believe that if they choose the best software product or create innovative systems for their company, then the relevant staff just need to follow the user guides to get to grips with it, and all will work out fine.
This couldn't be further from the truth – the sourcing of great software and systems is just the start of the process and ensuring user adoption, engagement and effective training is often the key ingredient that will dictate project success or failure.
Here we look at 3 overarching user adoption strategies to consider, and potential pitfalls to avoid.
User Adoption Strategies – Revolution or Evolution?
When staff feel very busy (which is pretty much all the time in most organisations), it's common for there to be some resistance when it comes to the introduction of new systems.
There is always a learning curve when it comes to new system adaptation, so any potential business risks from human error during the early stages of its use must be estimated and managed during this phase.
The new system will presumably bring business benefits in the way of cost-saving or productivity gains, at least in the long term. Therefore, managers will usually want to realise these benefits as quickly as possible, while balancing this with the risks.
Eason illustrated 3 user adoption strategies for new IT systems in 1988, using this graphic that's still relevant today: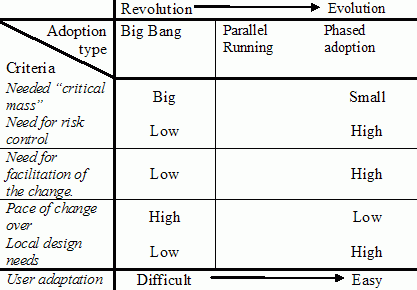 'Big Bang' Software Adoption Plan
If speed is required in new system implementation then the Big Bang software adoption plan approach provides Revolution on the graph above.
The upside of this approach is that the cost-saving and / or productivity benefits of a new system can be realised very quickly.
It comes with the most risk, as with the Big Bang the old system is no longer available as a backup if users get stuck. Therefore, excellent project planning, communication and management are required to ensure that errors are estimated and minimised.
It's reported that project management issues cause 54% of IT project failures, compared to only 3% being caused by deficiencies in technical aspects of the new system.
If a new system implementation has a high level of potential impact – both positive and negative – then you'll want to ensure that you have skilled and experienced project managers in-house or available to be brought in to manage the process.
Ideally, you'll enable your teams to practise use of the new system in advance of its go-live, using a sandbox environment or system simulation. This will help to reduce errors and maximise productivity on day one with the new system.
Parallel Running
Running the old and new systems in parallel while staff gain proficiency is a risk-averse adoption strategy, and often seems like a sensible approach.
Even if users actively use the new system from the outset, the old one is there during the transition phase as a security blanket.
However, unless there is immediate positive impact on their work in terms of time-saving or productivity, staff will often gravitate towards maintaining the status quo.
With this approach, users may need additional encouragement to get on board the new system, and communication about the benefits for the individual users, as well as the organisation as a whole, will become even more important.
In an online poll conducted by CompTIA (the Computing Technology Industry Association), 28% of the 1,000 respondents said that poor communication was the #1 reason for IT project failures.
Communication before and during the staff onboarding phase is essential to prevent inertia killing off the parallel running approach.
Phased Adoption
This is another type of Evolution, where aspects of the new system are introduced incrementally – almost like a series of 'mini big bangs'. This prevents the risk of complete inertia that can result from parallel running, as users are forced to adopt aspects of the new system over a pre-set schedule.
Phased adoption can be less daunting for users and can leverage the benefits of bite-size learning. However, it also lacks the speed benefits of the Big Bang approach, so will not suit all projects.
Even though the change is incremental, users should be given training in the new modules of the system in advance, so that the adoption of them at each stage is as smooth as possible.
User Adoption Plan & Checklist
To ensure successful staff onboarding for new software and systems, you'll want to create a user adoption plan that takes into account both the project goals and the people and culture of your organisation. A checklist of key considerations for your software adoption plan should include:
New system rationale and overall project goals
Required or ideal timescales for user adoption of the new system
People requiring training – including numbers, roles and abilities
Potential business risks from human or system errors
Project communications / internal marketing plan
Creation of a system implementation plan involving business leaders, project managers, and end-user representatives
Measures and definitions of project success
Support processes and people for every stage of implementation
Project tracking and report, with defined lines of communication
By assessing business goals, speed requirements, risks and organisational culture, you can choose the most appropriate user adoption strategy for your new software / system implementation, and help to ensure that it is as successful as possible.
Software & Systems Training
We've helped numerous organisations, including some of the best-known companies in the UK and Europe, to make user adoption quick and seamless with scenario and simulation-based training to support Big Bang, Parallel Running or Phased approaches.
Relevant Case Study:
When LloydsTSB merged with HBOS a new, unified system was required for their staff to support 25 million customers, the Day One team was brought in to create system simulations that made staff training and user onboarding fast and effective. With a very short deadline for staff to get up to speed with the new system, this was very much a 'Big Bang' project!
The result:
Training all the [Lloyds Banking Group] staff to use these systems and new processes – and to do it without interrupting service to customers – represents an enormous success.
JONATHAN CHARLEY
It's a financial world
Read the full simulation training case study here.
If you'd like to discuss how we can help your organisation with user adoption and effective new software and systems training, please feel free to contact us here at Day One for an informal initial discussion of project and goals.