Day One allow users to pair-up to do realistic systems training – we call this eRoleplay.
It enables trainees to practise the exact tasks in their day job – when they need to deal with a customer at the same time as dealing with a system or systems. The goal is to train people to perform the tasks accurately, efficiently and confidently, and to make this the core of the training. It's also a good way to challenge people without the risk (and cost) of dealing with real customers.
eRoleplay can also be used by trainers to evaluate and monitor progress.
Over the past few years, we have been giving eRoleplay regular makeovers. New features make it ever-easier to use, more interactive, and above all, more effective.
Easier to Use
With eRoleplay, one person performs the customer role. They are presented with a console that tells them who they are, why they are calling, and the status of the person they are paired with.
The console has been rewritten to give a lot more information to the would-be customer, in a much clearer format. Now the customer will see suggestions of what they could say, and how their partner is performing in real time.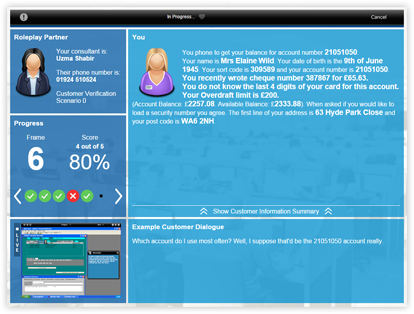 More Interactive
You will also see the exact screen of your partner, so you can check what they are doing (and what they may be doing wrong).
We call this the Live Feed.
More Evaluation Tools
Throughout the session, 'customers' will be invited to rate their partner on task-specific questions. These will then be reported to the course owner for analysis.
This will allow a focus to be put on specific soft skills when necessary. The system still scores the system training performance to show where people are slipping up, and when times are excessive.
Let the Trainee 'Get Inside the Customer's Head'
Talking about reinforcing soft skills – a new feature we have added to the customer side is 'customer role and personality hints'.
We want eRoleplay to be as realistic as possible by taking advantage of these hints that appear throughout the exercise, the 'customer' becomes a fun activity while still being a real challenge for the 'advisor'. Moreover, by letting the student take on the role as the 'customer', they can get a real sense of how your customers may feel during a conversation and what their needs might be.
Enhanced Reports
The 'soft-skills report' captures all the partner's feedback. Combined with the systems performance, this gives the best picture yet or what is going right or wrong, and what specifically needs to be addressed with the students. The information should also give a clear picture of any pinch points in the systems, procedures and best practice being used.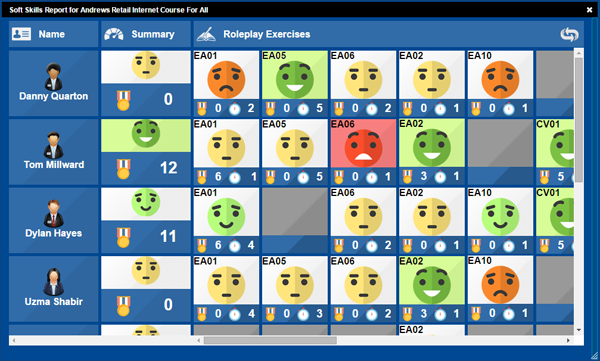 Ideal Training Tool
eRoleplay is ideal for training people who use systems whilst dealing with a variety of customers. Overall, it gives more power to your trainer's elbow, taking your students as far as possible before letting them loose on real customers.
We saw a 23% increase across our KPIs, the Day One solution paid for itself in 6 months.
Debbie Davies, Commercial Training Manger, Lloyds Banking Group
Could we help you?
If you'd like to discuss how we could help you to to improve customer service through realistic systems training, do contact us here at Day One for an informal chat about your needs.