Articulate Storyline is one of the most popular elearning software products on the market – and for good reason. It's hugely powerful, yet relatively easy to use for instructional designers with some experience. It's also a great tool for future-proof training content that can be edited and adapted down the line.
Here are just a few examples of elearning built in Storyline by the Day One Technologies team:
Complex Branching Scenarios for Mercedes-Benz
Mercedes-Benz needed scenario-based learning content to support soft skills training at their dealerships.
They wanted less theory and more action – highly interactive elearning for practising customer service skills.
We worked closely with the client's subject matter experts throughout to map out the branching of ideal training scenarios in Storyline: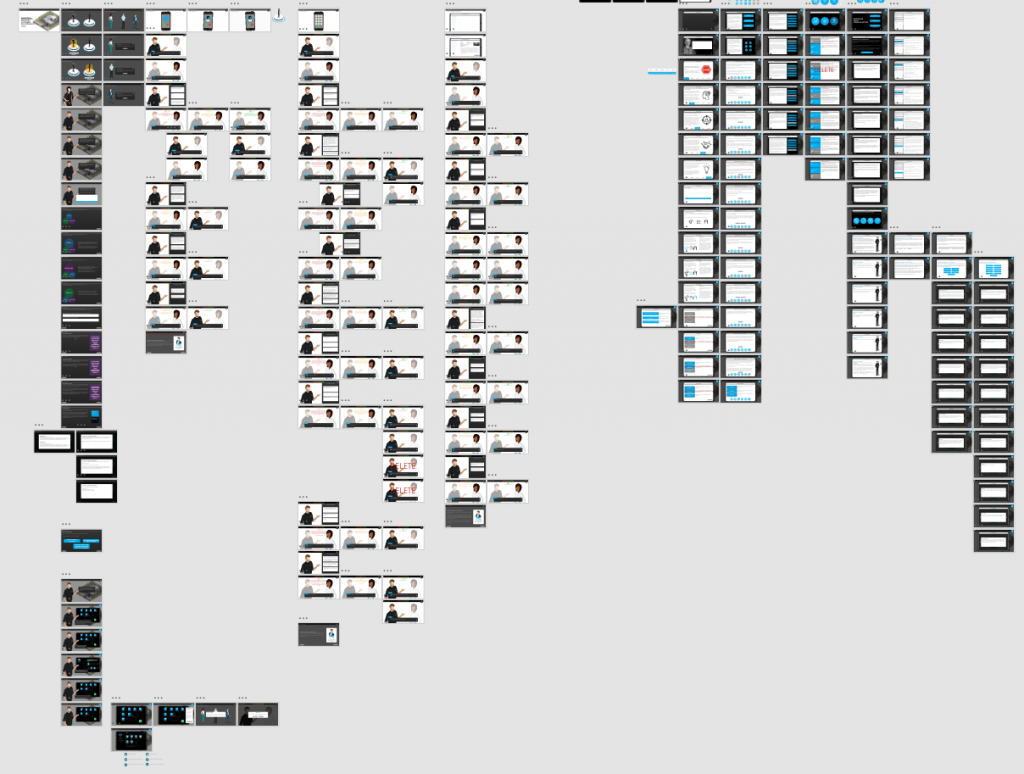 The result was a rich, varied and immersive learning experience for their customer-facing teams: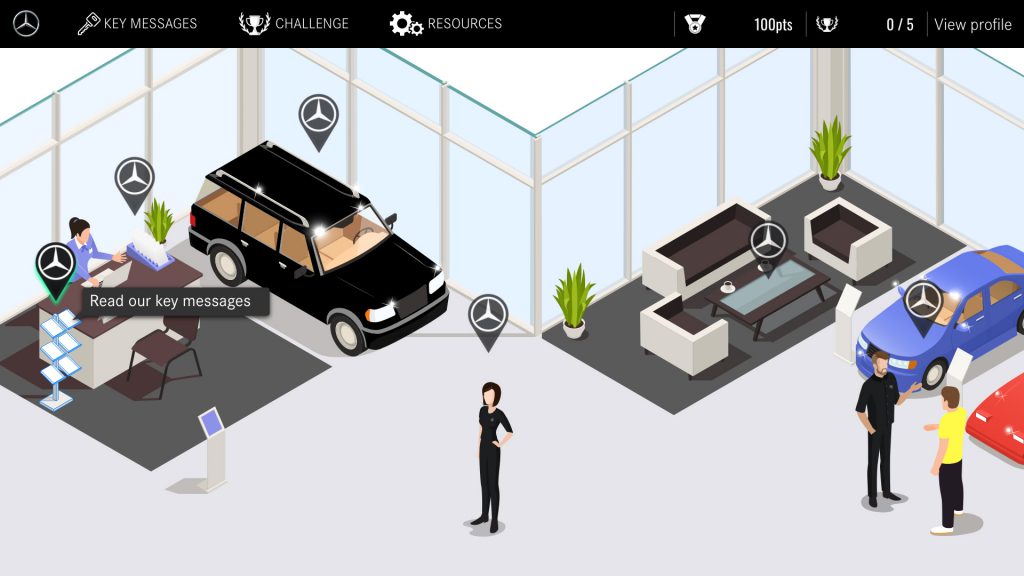 while gamification elements helped to drive learner engagement: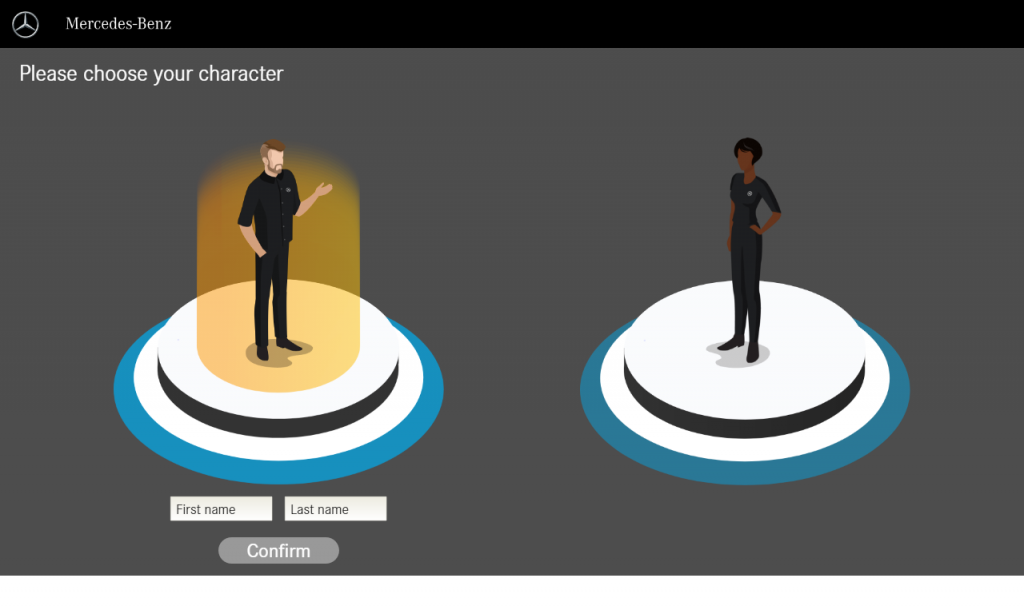 Learn more about this soft skills training for Mercedes-Benz on our case study page.
Aviation Risk Management – Logistics Simulations for WFS
Aviation is about as high-consequence as industries get, so World Flight Services (WFS) understand the importance of realistic training scenarios and the effectiveness of learning by doing.
First off, we visited WFS at one of their sites to take photos and understand how they work. We then worked with Articulate Storyline to design a 3D working environment that represented a typical airport cargo warehouse and loading ramp:

WFS operatives can now 'risk assess' 3D airport scenes, and enter their findings on a true-to-life version of their software.
Learn more about this logistics risk assessment training for WFS.
Interactive Training for Sensitive Subjects – Tommy's
Line-managers are often woefully unprepared for dealing with highly sensitive subjects such as pregnancy complications, miscarriage, stillbirth, premature birth and neonatal death affecting their teams.
Tommy's is the largest UK charity supporting people affected by such issues, and they are on a mission to improve workplace training for these matters. So they called on us at Day One based on our experience in creating training for sensitive subjects.
As well as a custom elearning portal for managing their content, we used Articulate Storyline to create an immersive learning experience with 30-minute modules on pregnancy and employment.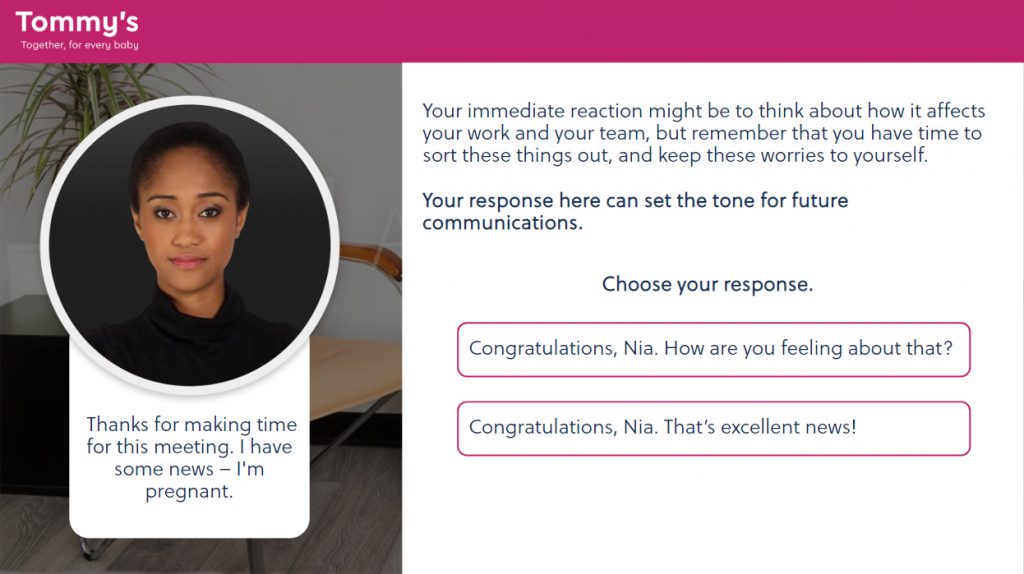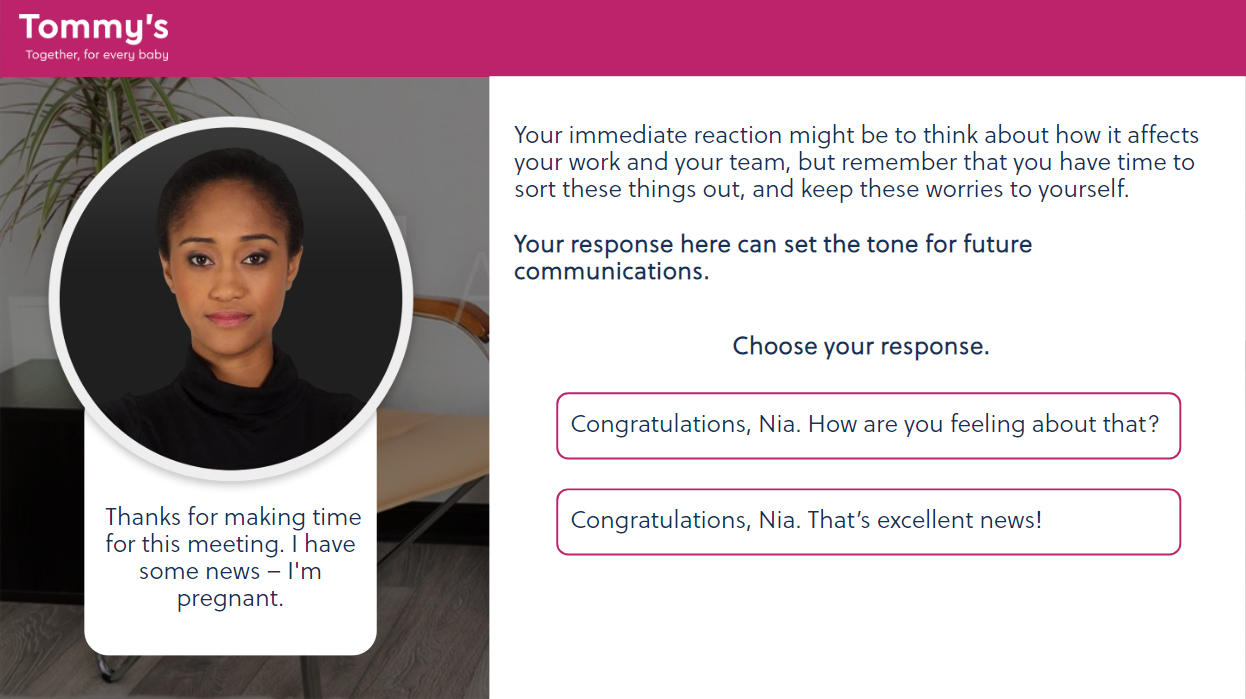 This interactive training solution was so well-received that it was 'Highly Commended' in the Breakthrough of the Year category at the 2022 Third Sector Awards.
Learn more about this important manager training project with Tommy's.
Software Simulations for Roche
As one of the world's leading pharmaceutical and diagnostics companies, Roche requires a high level of competency and accuracy in the use of their in-house systems.
The Day One team were brought in to create a digital adoption solution to support users of their new CRM system.
We used Articulate Storyline as a key part of our toolkit to create a software simulation that mimics the real system: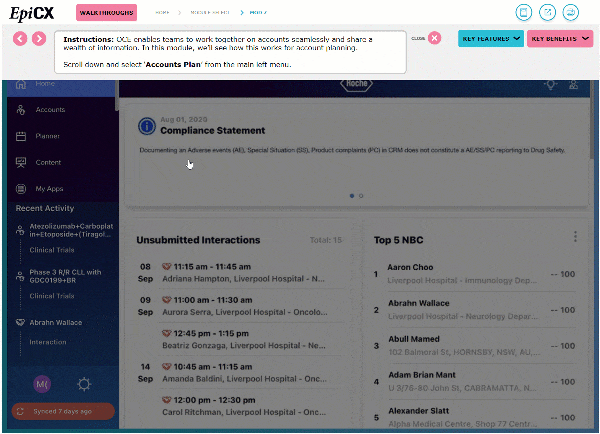 Not only did our software simulations help to reduce time to competency and increase employee confidence, they were so easy and enjoyable to use that they served as an effective internal marketing tool for promoting adoption of the new CRM across the company.
Learn more about this case study for Roche Pharma & Diagnostics.
Can We Help You?
As an extension of your own Training / L&D team, we have the skills and experience to help you leverage the power of elearning software tools like Articulate Storyline.
If you think we could help you, get in touch with us here at Day One for an informal discussion about your project.