As we saw during the European Football Championships in June 2021, sudden cardiac arrest can affect anyone, any time – even young, elite-level athletes.
It's likely that Christian Eriksen's life was saved only due to the quick and effective CPR he received from the medical team present at the match.
The distressing scenes were a stark reminder about the importance of emergency first aid training that includes guidance on how to deal with sudden cardiac arrest (SCA).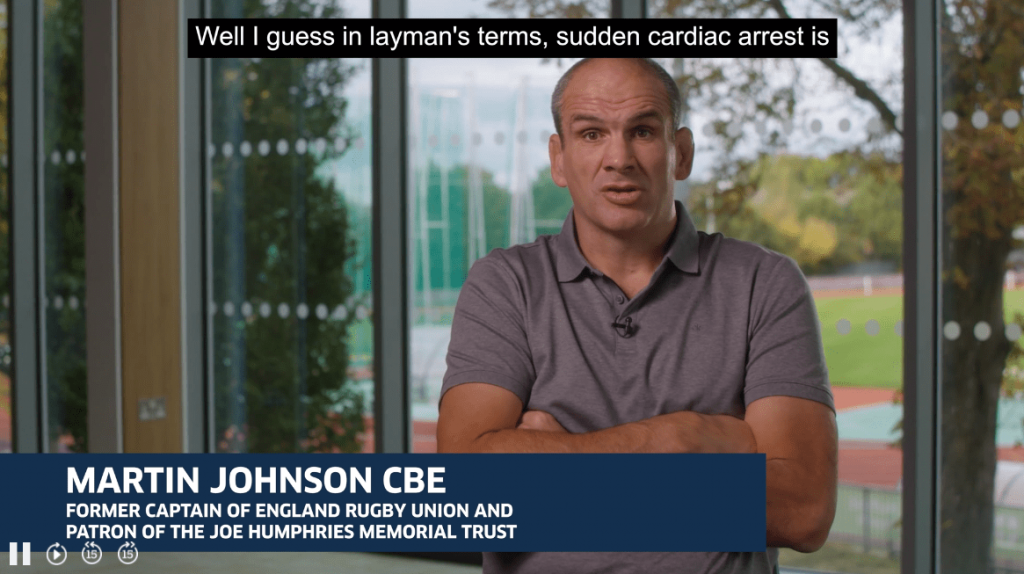 Importance of this Training
In the UK alone, there are over 100,000 deaths from SCA annually, with 60% of those in the community. Quick, well-informed actions by those present can save a life, but unfortunately, only 1 in 10 victims of sudden cardiac arrest in the community survive, despite half of them being witnessed.
Bystander CPR can treble the chances of survival, so more will survive if more people know how to respond when present during such an emergency.
By creating media-rich, engaging and thought-provoking elearning for UK Coaching and Sport England, Day One Technologies in West Yorkshire is helping to make this essential SCA training accessible to sports coaches, event organisers and the general public across the UK and beyond.
Initial Impact
In just the 3 months since launch in Spring 2021, over 30,000 people had accessed the learning materials and over 11,500 had completed the elearning course.
Many organisations in and outside of sport are now looking to embed the course as part of their membership process, as either optional or mandatory training. Organisations progressing this include:
British Athletics
England Netball
British Ice-skating
British Wheelchair Basketball
Loughborough University
British Kickboxing Council
Leicestershire City Council
British Judo
Liverpool FC
and many more.
Learner Feedback
Below are just a few of the 1,900+ quotes from individual learners and administrators of membership bodies who completed the course in the 3 months following its launch:
"Excellent course that is easy and simple to follow. Particularly good is that it is inclusive for a diverse audience with visual and hearing challenges. Well done, will definitely recommend to our members. "
"Great awareness course around such an important life saving skill, and really interactive. "
"The course is looking really good. I am impressed with how relevant the stories are and how the use of CPR and AED is encouraged, without making it look like it would be difficult to do. Doing CPR and using an AED is easy, and this film shows that. I hope you will make a difference by showing this programme to all coaches. "
"This is a great and very accessible tool. I will definitely be sharing with other coaches and colleagues. "
"Thanks for this resource – I think it is something every coach should have in their CPD portfolio!! "
"Great learning, as we do not often think about SCA when planning courses or training, but it could be saving a life. It also shows that everyone can help, which is a huge boost for coaches' confidence. "
Media Attention
Former England Rugby Captain, Martin Johnson MBE, who features in video interviews within the elearning, has been advocating the course in many media interviews following Christian Eriksen's collapse at the European Football Championships, describing the incident as "a wake-up call" to the dangers of SCA.
The content was developed in close collaboration with Resuscitation Council UK, St John Ambulance and Joe Humphries Memorial Trust.
Through this collaborative approach, Day One was able to make the scenario-based elearning informative, immersive and highly practical.
UK Coaching have reported that with the Euros bringing the risk of sudden cardiac arrest into such sharp focus, they have seen a huge surge in registrations for the course.
They hope many more coaches, event organisers, and members of the public will sign up to access the free elearning course and supporting materials via the UK Coaching website.
By doing so, they could well save a life!
Learn more about this elearning project on sudden cardiac arrest training for Sport England and UK Coaching on our case study page.